Sydney McDaniel 4/2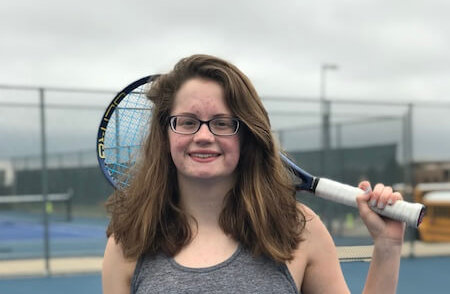 Information compiled by Kristina Boyko
Sydney McDaniel is a sophomore who has been playing with the Grandview's Girls Tennis Team for two years.
If you could be any celebrity for a day who would you be and what would you do?
I wouldn't really want to be a celebrity because there is a lot of pressure that comes to that but if I had to, probably an olympian or someone really rich.
What are you goals in tennis this year?
To fix and improve on my footwork and technique.
What is your ideal place to live?
Anywhere that's foggy with rain and a lot of nature around.
Who do you look up to?
Dana Volmer and Kathleen Baker they are both olympic swimmers.
If you could have a mythical creature as a pet which would you want to have?
Probably a creature from Harry Potter because it's Harry Potter and everything from there is amazing.
What's your least favorite part of tennis?
The stress of it all because there's so many things that could go wrong and lose the entire match.
If you could visit anywhere, where would it be and why?
Either Greece because of how pretty it is or Astoria, Oregon because that's where they filmed my favorite movie The Goonies.