Rioux Wins Silver at Grand Art Show
Photos Courtesy of: Matthew Rioux
An unexpected silver ribbon for digital art was handed down to junior Matthew Rioux who competed against the whole Cherry Creek School District in The Grand Art Show. The event was held before spring break. Students that competed at the showcase showed their creativity through a variety of different mediums.
"There was clay, photography, digital art, and painting," said Rioux.
During the event, Rioux was amazed by other student's work.
"I felt really good because it was really cool seeing all the other art that's around the district," said Rioux. "And, it was cool because I had people that were in my class with all this other stuff that I haven't even seen that was at our school. It was really cool seeing what all these schools are capable of doing."
For Rioux's own graphic design project, he chose to convey the ambiance of nature.
"Basically, it was a design of these three mountains and they were put together as a set because they were each their own separate thing. It was these mountains and had all this geometric work in it, and all these stars and everything," said Rioux. "So, I guess it appealed to a lot of people cause I had a lot of people walk to it and they were very interested in it."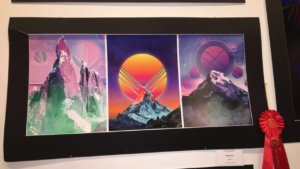 In doing so, this beautiful drawing "unexpectedly" lead Rioux to get second place.
"It was a surprise because I walked in and I saw all these ribbons. Then you know, I walk up to my piece and there was the second place," said Rioux. "And I asked my teacher, 'what did I win?', and he was like, 'I don't know'."
Rioux was not only proud of his drawing and place he received, but also believes that he got the place he deserves.
"I will admit that I'm skilled in what I do, but so were a lot of other people. So, I think it was a very fair game and anybody could have gotten it and I'm just proud that I was able to get it," said Rioux.
In the end, Rioux believes that the event is a great opportunity for anyone looking for a new, open experience.
"I think it was a cool opportunity to be able to go to that and be able to see everybody at my school and all the people at the other schools. It's a really opening experience, as you see all the kinds of things that other people are doing other than yourself," said Rioux.