At 5-7:30 PM at Grandview on April 16, between 1,500 and 2,000 people will come to enjoy the diverse display that has been assembled at our school.
There are many types of artists. Graphic artists use tablets and complex programs to make their ideas come to vibrant life. Painters learn the way of the brush and hundreds of techniques to get that landscape to look just right. Sculptors use clay and their best tool–their hands–to model their visions. Traditional artist, the root of all art, learn to form complex figures out of simple shapes and make objects on paper look real.
Of course, there are hundreds of types of mediums and techniques at an artist's disposal, given they are dedicated enough to learn them. Too many to name here.
Painters, digital artist, sketch artists, sculptors, potters, photographers: creators. People who just learned to dabble in a medium recently and those who have been mastering the practice for years.
One thing that every artist has in common here at Grandview is the opportunity to participate in the Annual Grandview Art Show. Not only is high school art displayed at the show, but Creekside, Fox Hollow, Meadow Point, Red Hawk Ridge, Rolling Hills, Trails West, Falcon Creek and Liberty will all have student art displayed as well.
All levels of talent and all types of mediums are represented, creating one of the most diverse displays that Grandview has all year.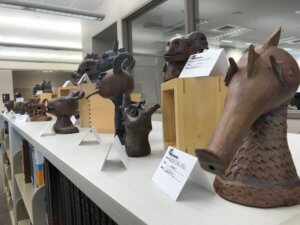 Colleen Smith, ceramics teacher as well as sculptor, potter, and painter, is just one of the many art teachers who helps to coordinate this massive show.
"I have 350 students in a year, and I would imagine about maybe 80 of them to 100 are going to have the honor of being celebrated in the art show," said Mrs. Smith, which demonstrates truly how many students are going to be represented in the display. "Even though you only see it this week, we started [planning] it in September."
One such student that will have art featured this year is sophomore Julianna Anaya, who has considered herself to be an artist for at least four years and works in mixed media.
"I have taken Drawing and Painting 1 and 2 and Ceramics 1 and 2," she said, with ceramics being her favorite.
"I have 350 students in a year, and I would imagine about maybe 80 of them to 100 are going to have the honor of being celebrated in the art show," said Mrs. Smith
It's exciting to see traditional artists such as Anaya and other types, like graphic artists such as junior Kiefer Kraske, be equally represented in an environment.
Kraske has taken all of the graphic design courses offered at Grandview as well as a Drawing Painting 1, and has 18 pieces in the art show this year.
"Photoshop is fun, but I like also like stippling, which is with markers," said Kraske, who did a series of stippled skulls, though his entries in the art show are graphic. "I'm pretty excited about [the show]. I have lots of people coming."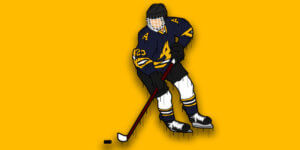 The art department may be at the heart of the art show, but students from the culinary programs have also been working to prepare snacks for visitors, and some students from performing arts will be joining the art show this year by performing in the lower academic hallway.
"I've always felt and believed that music and art go together. They really support each other so nicely," said Mrs. Smith as she described the planning with all the different departments. "It's really a school-wide effort,"
While at the show, make sure to visit the lower commons to check out the senior showcases displayed there. Head down the academic hallways to see more artists who have been individually honored with their own section of the wall, as well as the art from the feeder schools. High school art will be located in the library.
Also make sure to add the entrance to the art hallway as a stop on your tour. Located there is this year's interactive display, #WhatLiftsYou.
"This year, we looked at an artist, Kelsey Montague. She's known nationwide. She paints on the sides of buildings.. wings or some sort of an uplifting mural, and the whole idea is to use social media in a positive manner," said Mrs. Smith, explaining what the interactive display was this year.
Students and staff designed and wrote about what "lifts them" on feathers, which have come together to assemble bright and colorful wings that visitors can take a picture in front of them and post about #WhatLiftsYou on social media.
There are many exciting things to see at the art show this year, and it's bound to go off without a hitch because of how much dedication and love has been poured into it from staff and students alike.
Come support Grandview's distinctive cast of artists this year, and if you like what you see, then consider taking one of the many art classes offered here at Grandview next time registration comes around.
Then maybe you could join the ranks of those who are being honored at Grandview's annual art show.