Photos courtesy of: Janhavi Kulkarni, Mae Chen, and Jake Kartz
You have ten minutes on the clock. One problem. One presentation… and a handful of judges.
"[They] might be the meanest people ever or just might smile and nod at you the whole time." said DECA president Victoria Salazar, as she described what a roleplay feels like when competing.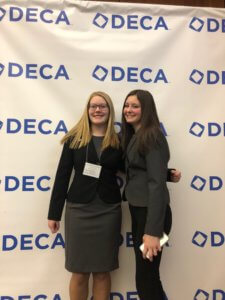 As of this year, Grandview has registered over 120 students in their DECA program, which has been the biggest district registration for Grandview. In fact, about 73 students were registered for districts this year.
"It seems like the new group of kids that came in are really passionate so we're excited to see what they will do," said Salazar.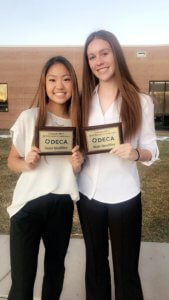 In addition to the new DECA recruits, Ms Bonnie Enright— who is currently a business teacher here—  has also been added as the head of DECA, given her previous experience as the head of DECA at Chaparral High School. 
"At Chaparral, it was one of the highest ranked programs in the state. We typically qualified lots of students to go to nationals and did a lot of community service projects," said Enright. "I'm trying to bring a lot of that experience here because I feel like there is a lot of opportunity to grow the program."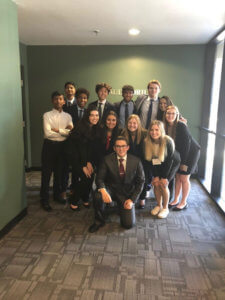 Many students have felt that Enright's new way of administering DECA has been very different as opposed to last years, but has been very beneficial.
"I know I'm going to get the results I want," said sophomore DECA student, Thomas Ho.
"She's making us practice a lot more and have more discipline. So that will help us in the long run. We appreciate her for that," said Salazar.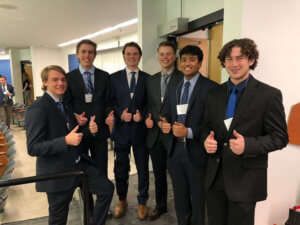 However, the delayed start and the snow day that occurred within the last week of October forced both the Vail and Cherokee Trail DECA conferences to be cancelled and caused many Grandview students to be disappointed.
"Honestly, I was devastated when Vail got cancelled," said Salazar.
According to Enright, she even felt slightly disappointed with the cancellations of both competitions. 
"I do feel like we lost a little bit of that momentum that we have built up because we had gone to two competitions in September," said Enright. "We haven't gone to any competitions since then."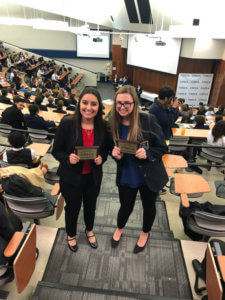 As Districts continued to approach, many new students often found themselves quite nervous (as anyone would be) but eager to compete. In fact, some had practiced intensely to secure their spot for the state conference.
"Our officers try to put on prep parties," said Salazar. "We order pizza and have people come in and sit down and practice. We show the new people how a roleplay is supposed to look and to properly handshake and maintain eye contact."
According to students who were new to DECA this year, it has been a learning experience that allows them to improve their public speaking skills and make connections with new people.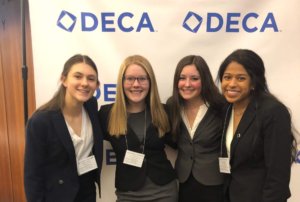 "It's more competing against other people and seeing if you can be the best at your event," said Ho."The rush of just going to meets and meeting new people and competing is always great."
Ms. Enright has especially loved seeing her students grow and discover what they're capable of. 
"I get excited for the awards because I love to see the kids celebrate and realize that all their hard work was worth it," said Enright. 
When asked what advice she would give to new DECA students, Enright simply responded, "I hope kids know that the skills that they're learning are good for any career they go into. So make the most of it. Have fun. Meet new people."