Time for Love
PDA is very common whether or not we think about it.
Hugging in the hallway.
Holding hands.
Or even cuddling during lunch.
But for many LGBT+  people, PDA isn't accepted.
So, Time for Love was organized by Grandview's Gender Sexuality Alliance club (or GSA) to promote PDA–specifically holding hands in public– among same sex couples.  
The project itself was created by Nathaniel De Young, a man from Detroit who decided to create the project after seeing youtuber Sean Lionadh's video on homophobia in 2018, where he claimed he felt uncomfortable holding hands with his partner in public.
The project has swept the nation and people all over the country are creating 'chapters' in the project where they walk around a park holding hands with someone of the same sex to showcase PDA for LGBT+ couples.
The event was supposed to be Saturday, May 11, from 10-12 am and was supposed to take place at Washington Park.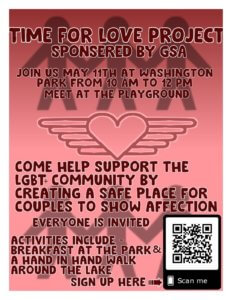 The group was notified on Wednesday that the event was canceled, three days before the event was supposed to take place.  
The club had talked about planning this event for two weeks but, according to the group's Schoology page, had to cancel after the club's sponsor, Mrs. Bjork, did "not realize the extensive requirements it takes to get a field trip approved, and because of time and a lack of concrete information on who will attend."
The group has decreased in members since the beginning of the year due to drama and others simply failing to show up to meetings, so organizing the walk was challenging because they didn't know who would be coming.
"We were trying to acknowledge homophobia around LGBT couples in public," said one of the club leaders, junior Leo Yee.  
"We want to inspire pride and make gay couples feel more comfortable being themselves in public," said the other leader, junior Kiara Martinez.
Even though the event is cancelled for this year, GSA hopes to gain more members next year so they can have more participants in the walk for next year.
"GSA is not an exclusive group anyone can participate," said Martinez. "We hope to get more members next year and make the school a safer environment for the LGBT students."
Yee added that "GSA isn't as bad as it seems."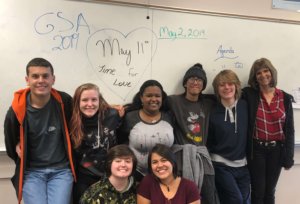 But even if you aren't jumping at the chance to join, the leaders have some advice on how you can make LGBT+ students at your school more comfortable to be themselves.
"Don't stare at LGBT+ people because it makes them uncomfortable," said Yee. "Stop the jokes please, we're humans with emotions."
Even Martinez had ideas for how allies can help.
"You can help raise awareness on issues or support the community with your acceptance and kindness on a daily basis," said Martinez.

If you would like to learn more about the project, or even just support your LGBT+ community, here are some helpful websites to visit:

Sean's video:
https://www.youtube.com/watch?v=anD9ZrMJT8k&t=1s
Time for Love project:
https://www.timeforloveproject.com/
The Trevor Project:
https://www.thetrevorproject.org/#sm.001vjbkes126id0kth11oiwsoe05b
GLAAD:
How to be an LGBT Ally:
https://www.hrc.org/blog/how-to-be-an-lgbt-ally
Straight for Equality: