Grandview's art show celebrates the talented student artists from Grandview and its feeder schools. The night is filled with live music from Grandview's band and orchestra, and even middle and elementary school musicians; delicious food prepared by Prostart, hands on art activities, and, of course, the beautiful artwork that is displayed throughout the school. In the commons, six artists were chosen to showcase their art.
Gelella Nebiyu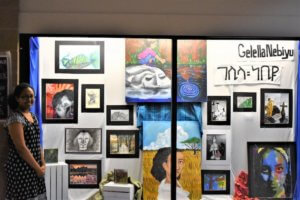 "When I first started [the showcase] I put a lot of emphasis on my youth, and the imagination and surreal feelings that came from it. It was to focus on how I felt when I was younger, and what inspired me to start art, which was storytelling and stories, so this was a way to put it all together in images. As I got older, I started to experiment with different inspirations. Most significantly, this year was my culture year. My parents immigrated from Ethiopia, so I've lived in two different worlds: living in American culture and Ethiopian culture, with this whole other community, so I wanted to put emphasis on that, because I've been taking more time to learn about my culture and how it shaped me."
Ceilo Martos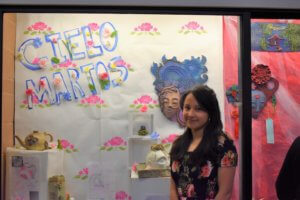 "My style is contemporary meets flowers and mythology. I like to bring in all the aspects i've grown up with:flowers and fairy tales. There's always flowers in my house, no matter what time of the year. My mom likes to change them out. When I was little, I always loved fairy tales, so I made a dragon and a fairy. "
Angelica Suero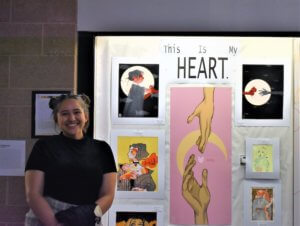 "My theme is love. It's based on an album called "Heart" by Stars. The album is a compilation of songs about love. Each of these paintings are based on one of these songs. In the paintings, there are illusions to the title or lyrics of the song. I like to draw whatever I want. I sketch a lot and mostly draw girls. Sad girls, sad things. I do a lot of pieces on love, because there's a lot of interesting human emotions when it comes to that topic."
Orlie Suverza Back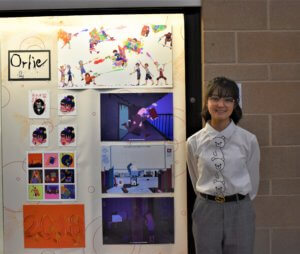 "My showcase doesn't necessarily have a theme or a story to it. If i think of something, I'll just draw it, and sometimes I think of the weirdest things. I like to add little twists to my drawings, just cause it makes it more interesting. It's a representation of how i feel in a way. I feel like that's what art is: a twist on feeling."
Yongmei Ma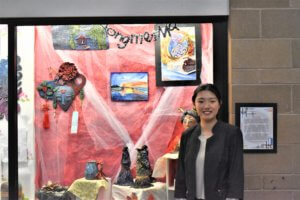 "My showcase is about my culture. I used red as my base color, since red is my favorite color, and it also is the lucky color in China. My projects are about nature, culture and memory. I have work from ceramics, graphic design, and drawing and painting. I wanted to try all these medias to show all the important things in my life like Colorado, China, and nature."
Skylar Rosenblum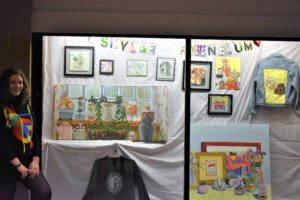 "The pieces in my showcase are all sentimental. They're symbols from my life that mean a lot. I drew dogs, because friend's dog died recently. When I first met my boyfriend, we ate strawberries together, so I made a strawberry thing. I have inspirations from my Grandma, and when I went to an art school, where I was able to observe lot of art museums. I like plants a lot, and I like thrift shopping with friends.The shoes and the sweater represented a bad epcode first semester. The sweater was my Mom's and the shoes are iconic to me– I wear them all the time. The sweater and the shoes represented my support that I have in my life."

Grandview's art show truly depicted the talent and hard work of student artists.