The first person born deaf in his family, Patrick Southern has always had a complicated relationship with education. From schools for the deaf to mainstream ones and now Grandview, Mr. Southern has never left school, but wasn't always as enthusiastic as he is now. 
"I had access to the building. I didn't have access to friends," Mr. Southern, ASL 1 and 2 teacher said. 
The schools we're all used to were just one of three for him for many years. Instead, he went to a school that accommodated his needs.
"I [went] to an oral school to learn how to speak with an FM system," Southern said. "It was a waste of a lot of years, a lot of learning."
Not only did Mr. Southern have to learn what we all have to, but he had to learn how to speak, and understand in his daily life because it wasn't natural for him. He knew that was different from a very young age. 
"When I was 5 or 6, I started to realize that other people could hear and I couldn't," Southern said. "I had been lip reading and watching people's facial expressions so that's when I learned I was different."
With time, however, Mr. Southern found people that made his education easier to enjoy. 
"I had a teacher sit with me one on one and really wanted to know my beliefs and my experiences and she kind of developed my curriculum," Mr. Southern said. 
This English teacher acted on Mr. Southern's education, being the first person he recalls encouraging him to find his love for reading and writing. Mr. Southern joined track and field in high school and found a new community. 
"People would notice me and feel more comfortable chatting with me because we had sports in common," Mr. Southern said. "It's those small victories that help to have access to education."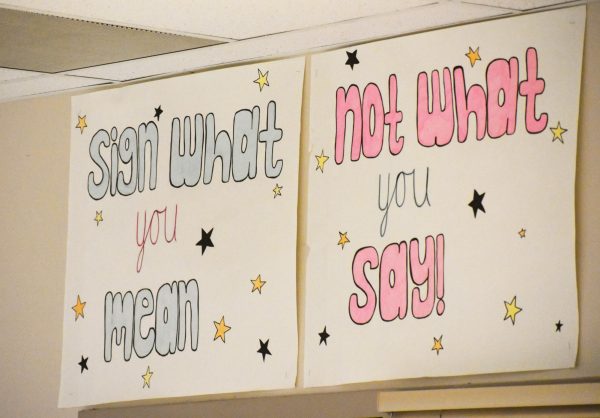 Grandview can thank small victories for leading Mr. Southern here. While he's only had his classes for 6 weeks, Mr. Southern feels a heavy responsibility in his role because for him it's more than a class.
"They're not just learning the language, they're learning the culture themselves and then they will be able to participate in the community," Mr. Southern said. 
For him, it's all about building access and allowing students from different cultures to be comfortable around each other. 
"It's like a toll bridge, letting them have access to the other world," he said.
Creating his own curriculum, Mr. Southern chose to teach all of his classes independent of an interpreter. 
"I use a lot of visual aids, I use the projector, [and] I write," Mr. Southern said. 
Relying on ASL and writing in beginner level classes is a hard feat, but he's already noticing students beginning to understand independent of written words.
"I [know] what students need based on how the students learn, visual learners especially, and what that means based on my own experiences," Mr. Southern said. 
His experiences have formed a clear goal for the ASL program here. From theater programs for the deaf to partnerships with art classes, he knows how to bring communities together and Grandview's role as a deaf magnet school makes that easy. 
"You don't have to go out into the community to meet someone who's deaf, I'm already here," Mr. Southern said. 
Forging the path for deaf students and teachers in CCSD, Mr. Southern wants people to build relationships with other communities and that starts with language. 
"I have the background, I have the history," Southern said. "[But] just a small part of the deaf community."