Hallå to Hello
It may seem like all schools are the same but in reality, schools vary from district to district, so it's hard to think about what school would be across the ocean.
Denys Puryk
Freshman Denys Puryk, moved to Colorado from Ukraine in 7th grade. Getting used to school in America was as expected, a challenge for Puryk.
"It's more strict [in Ukraine]," said Puryk. "We only have 11 grades, we don't have elementary, middle or high school, it's just one school," he added. "The school [in Ukraine] was not as big as this school, just take the size of this school and divide it by 2."
"The people were talking on the bus and I just heard how they were talking," Puryk said, explaining how he, like many other people arriving in America, had to learn English through full immersion.
Getting accustomed to the schedule in America was also a challenge for him, as the formatting that schools have in Ukraine is very different than the schedule in America.
"Every class was 49 minutes," said Puryk." We would only have one class [in Ukraine]. For example there's an A, B, and C 9th grade class, [when I was in] 6th grade I was in [class] 6A, and we stayed with the same people all the time. There's like 30 people that you see like every class."
It would be difficult to go from seeing a select thirty people a day to going to have tons of different people in every class, maybe even a bit overwhelming. On the topic of people, Puryk goes on to describe the differences between people that he encounters daily now that he lives in the US.
"People here [at Grandview] are sometimes mean, not specifically to me, but to other people. In Ukraine, the people are nicer."
Aside from the differences in people, and schedules, the physical size of the school is also different.
"The schools are bigger [in America], you have a lot of activities you can do, you have lots of opportunities like if you want to play soccer than go and play it."
Finally, Puryk gave some advice to any other student who might go to a school in another country.
"Talk more so you can learn English [or any other language], try to make friends," he suggested.
Other than the fact that it's a new language, new culture, new everything, you're probably gonna do well. You'll adapt, you'll learn, you'll be good, you'll make friends, the people here are nice and accepting.
Hadile Bird Bear
The second student on this list is freshman Hadile Bird Bear, who went to school in Sweden until 6th grade when she moved to America in June of 2014. Fortunately, Bird Bear spoke English when she moved.
"School in America is harder," admitted Bird Bear. "America focuses a lot more on positive stuff so if you are good at something then you are placed in a higher class, but [in Sweden] if you don't understand something then you get more help."
"The rules in America are a lot more strict, you call your teachers by their first name, there's no dress code, in Sweden, it's just more relaxed," said  Bird Bear as she explains the differences between the rules in America and Sweden.
Along with the schools being more relaxed in Sweden, Bird Bear admits that the biggest challenge she faced was how much school work there was in America. "In Sweden it feels more personal, the schools are smaller and the classes are smaller so you get to know everyone really well."
Although Bird Bear was fortunate enough to know English when she came to America, she said, "It's okay to be nervous, you're in a new country and a new school, don't be afraid to get help from your teachers and parents if they can help you."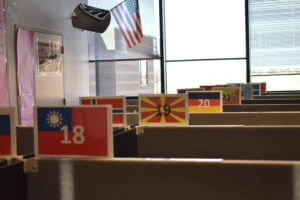 Namchinhand Erdenebayar
Last of this list is freshman Namchinhand Erdenebayar. She moved to Colorado from Mongolia, while only knowing Mongolian.
Not only does she recall the better lunches in Mongolia, but she also recalled that school in Mongolia is a lot more difficult than it is in America.
"[In Mongolia] They're pretty strict and they teach you a lot," Erdenebayar said. "When my sister came to America, and she was in 6th grade, she was already in geometry because she already learned all that material [in Mongolia] because they move fast and strict" added Erdenebayar
"The schedule is pretty similar to America," Erdenebayar recalls.
"Other than the fact that it's a new language, new culture, new everything, you're probably gonna do well. You'll adapt, you'll learn, you'll be good, you'll make friends, the people here are nice and accepting."
Although moving to a school in another continent is challenging, these three students have adapted very well to the change.

Loading ...

Loading ...

Loading ...