Athlete of the Week – Naomi Clark (4/11)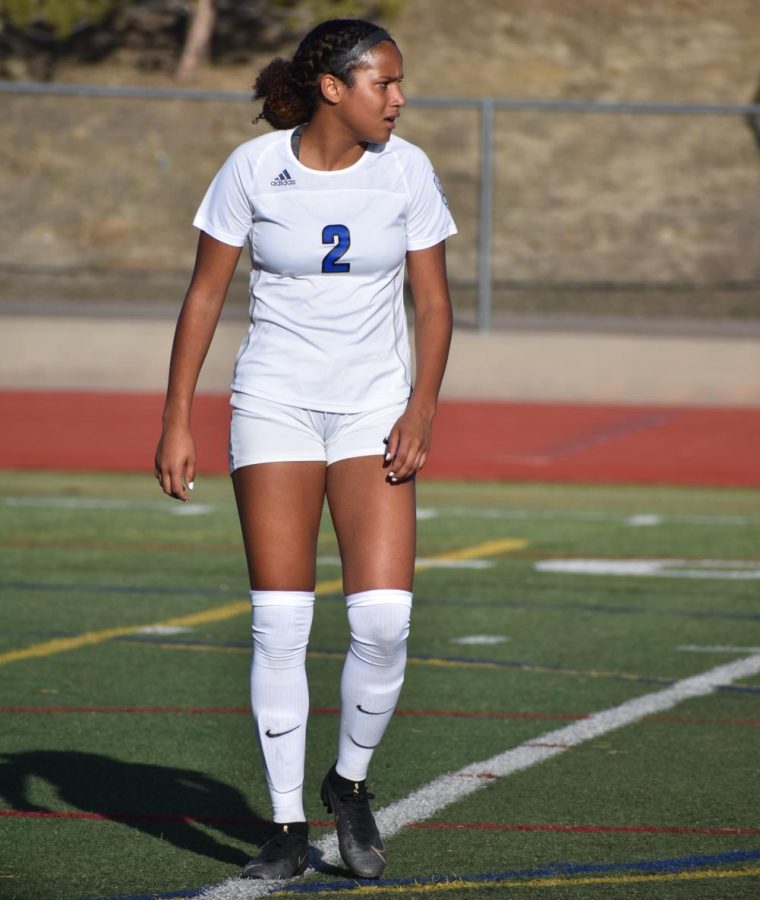 What grade are you in?
I am in 11th Grade.
If you could have any pet, what would it be, and why?
Probably be… A dog, I don't know… They are cute.
What type of breed would you have?
[A] Pitbull
What made you decide to play soccer?
My Mom played when she was little, so she put me in it and I just continued because I loved it so much. It keeps me in shape too.
How long have you been playing soccer?
I've been playing since I was 3 ½, so what is that… 14 years.
How has your season been going?
It was a little bit of a rough start, but what are we… 4-1-1 (at the moment), [so] that's not bad to start off with. We still have a lot of games.
Any key highlights from the season so far?
I mean, [during the] Regis game, I scored one. It was kinda bad, but I scored it. And then [in the] Mountain Vista game, we won 1-0, I scored. Then last night (April 5th), we had a pretty good game against Mullen, that I assisted [with] a really good goal.
What are some goals for the season?
State for sure, and just winning as many games as we can. Last season was kinda rough, so we are trying for a better season.
Do you think you guys are going to make State?
Oh yeah.
Gonna win?
For sure!
How do you feel about the team's record?
I'm not super worried about it, but I definitely think it should be better. But I mean we are still winning games. I think we will win the rest of our games. Not super worried but should be better.
How will the team's record get better?
Just going to [the] League Tournament, winning that, going to playoffs and just keeping our team going. Eventually going to State and winning.
Do you have a favorite moment this season so far?
My favorite moment wasn't on the field. It was [at the] Team Dinner when everyone was there and I just thought it was so funny cause everyone was just laughing and having a great time and we… It was a rough start with our team bonding at first, but I think it has just gotten way better and that team dinner really was a highlight.
How is the teams bond at the moment?
It is good right now. We have been doing pretty good with that, and being friendly and stuff.
Do you plan to play soccer in the future?
Yes. I am going to college for soccer eventually. Few schools that I am looking at. But I would like to go with a full ride, or some sort of scholarship.
What schools do you have in mind?
I'm thinking the [west] coast, so maybe somewhere in California. Nowhere specific, just any school in California. I like Hawaii a lot. Washington State is a good school I'm looking at. Just kinda staying on the west.
Is that D1, D2?
D1 for sure.