The Hidden World of Unified Basketball
It's no secret that Grandview is considered to be a sports school thanks to success in numerous activities. With boys soccer and E-Sports both winning State and girls volleyball going to the finals as the most recent examples of success, it's easy to overlook other important sports, one of which being unified basketball.
"We have a lot of students in ILC that have a lot of skills and don't always get the opportunity to participate in sports or show off their athletic abilities, so it is an awesome opportunity for those students," said Andrew Tolbert, an ILC teacher. "It is also an awesome opportunity for students in the general education population to be able to get to know ILC students and interact with them and build a connection." 
ILC student and unified basketball player Caiden Karabell also agreed.
"I really like it. It's like we're a team and we work together," said Karabell.
Unified basketball is so much more than just a sport to the students who participate in it.
"I think as far as the athletes go, it is without exaggeration, their reason for waking up in the morning and coming to school," said Mike Zadigen, an ILC teacher and founder of the Cherry Creek High School unified basketball program. "It's something they're so proud to be a part of, and they just absolutely love. It's so special to them and makes them feel like a part of the Grandview community."
"People can see that we truly have fun," said Katie Wagner, an ILC student, and unified basketball participant. "And it's not about winning or losing."
"I know the athletes love it, just being able to get out there and play a sport like any other kid," said Tolbert. "And I know that students who support ILC students love it, [too]."
Being able to participate in a unified sport creates memories and opportunities, for ILC students and unified partners alike, to hold onto forever. These students feel included, competitive, happy, and prideful when playing basketball.
"I want to beat down the other team," said ILC student and unified basketball player, Charlotte Dixon enthusiastically.
"I like that they, [the unified partners and audience members] like it, too," said Tor Bird.
For unified basketball, inclusion is essential as every player gets an opportunity to play.
"I think it's amazing and everyone gets involved with each other," said Wagner.
"Anybody can play, anybody can play basketball, anybody can play this game, everybody is useful for each game," said Karabell.
"It's a huge point of pride. And they are so proud to put on their uniforms on game day," said Stefanie Jones, an ILC teacher and the founder of the unified basketball program at Grandview.
While the athletes experience happiness, competitiveness, and pride from each basketball game, the unified partners and crowd members take away something, too: good sportsmanship, kindness, and respect.
"Usually when we cheer for unified basketball, we are at the school until 9 pm supporting girls and boys [basketball games], but I can say that Poms really does look forward to watching unified the most because we always know it's going to be a very inclusive community and we are going to have fun time cheering on the kids and seeing kids support each other form both sides of the teams," said Pom Taylor Altman. "They have good sportsmanship, probably the best that I've seen."
" They are competitive in the sense that they are trying so hard to win and get points, but at the same time, they are really there to have fun, and it's so wholesome to watch it," said Pom Ella Walsh.
Because COVID-19 restricted the number of people allowed to play in the game and view the games, there has been a lack of acknowledgment towards unified sports. This has made it difficult to get the word out and bring in the support and crowds that the unified basketball team deserves during games.
"It's really important for school spirit. You should definitely go to games to support them because they work really, really hard and they are excited that they can play a sport just like anyone else," said Unified Club member Mallory Kachelries.
"One year we got a comment that we had more fans than the varsity boys [basketball] had, which was super cool, but the last couple years we haven't been able to do things the way we want to do them," said Jones. "We are hoping to bring it back."
Unified basketball is truly special and certainly leaves an inspiring impression on the people who play in the game or watch it from the stands.
"If you are playing or watching the game, or planning to go watch, it definitely is a very big motivational thing because it makes them feel so happy when you come. And it makes you happy to go because you see how excited they are to be on the court," said Kachelries. "If you go, you will definitely be inspired."
Unified partners Mia Finlay and Anna Kriss also agreed.
"The people who watch it see how much fun everyone has and how these kids are really good, like they're really good at basketball, and it's really fun to see," said Finlay. "I think it's something that can leave people if they come and watch and if they play, a better person and more understanding and more compassionate."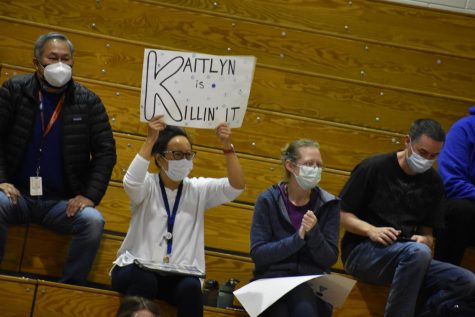 "Come watch, it's so fun. I never leave with a glass half empty. I'm always overflowing when I'm done. I feel so fulfilled. I think that's the same thing for the people that come in our community, I feel [that] they also leave with their hearts very full," said Kriss. "It's 40 minutes of your day [and] that's less than half of a class, [so] you can spend less than half of a class and have a good time and watch some kids that need and want the support just as much as you would at your game."
Unified basketball is only one of the ways to get more involved in your community, support students in the ILC program, and make lasting memories.
"It brings our school together in a way that we need more than any time right now, everybody's tired, everybody's stressed, everybody's kind of at the end of their rope, but with this, it's just meant to be good old fashioned fun," said Jones. "And so I hope that those leaving the games, athletes, partners, and spectators all leave with a smile on their face."