On a Mission
Coming off three straight appearances in the state title game, the Wolves are looking to win their third championship in four years. Head coach Josh Ulitzky's team is currently 18-2 with an undefeated record in league play.
"There is room for improvement but we're making a lot of progress," said sophomore, Lauren Betts.
This season's success should not be a surprise, having blown out every team they have faced in league play by double digits. A big reason for that is the great drive and ambition within the squad.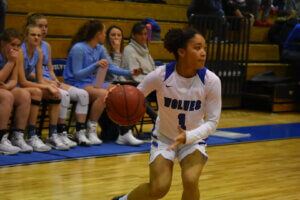 "We have a lot of talent on the team and we work hard during practice and games," said junior, Addison O'Grady. "We are able to push each other and that makes us better players."
Assistant coach William Baird also agrees with how the season has been going.
"I'm really happy with how the girls have held on and off the court while caring for each other," said Baird.
Despite losing in the state final last year to Cherry Creek, the team has used it as motivation for this season. Judging by what they have done so far, they look ready to make another title push.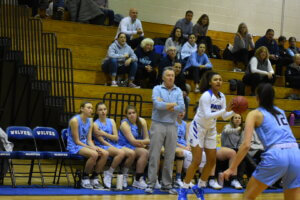 "We're all pretty motivated because we didn't get where we wanted to last season," said Baird. "Losing against Cherry Creek and not achieving that goal still stings, but we're also trying to stay focused on this season instead of the past."
Earlier in the year during Winter Break, the girls went down to Phoenix, Arizona to compete in the Nike Tournament of Champions along with some of the best teams in the nation. Although they didn't come out champions, it was a great experience for the team to build from.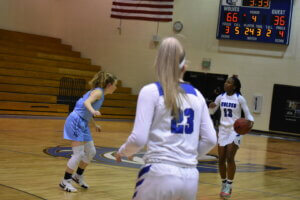 "It was early season, so I think everyone was trying to find their role and we were playing some of the best teams in the country," said O'Grady. "When we played together, it was fun."
Baird also had thoughts on the competition.
"It gave us things we needed to work on as a program for the coaches and players but all in all, it was a cool experience," said Baird. "I honestly think we could've won if things went a little different."
Since the tournament, the girls have been on a roll winning their last twelve games with no signs of slowing down. If they can keep this up, it would not be a surprise to see them play their fourth straight title game at the Denver Coliseum.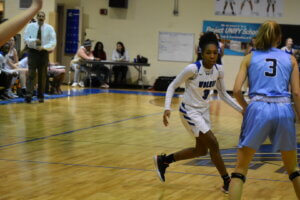 "I think we are one of the only teams to have that much talent," said Betts. "All of our players are super talented from top to bottom."
This week, the Wolves will play against Overland (2/15) at home at 1:00.