Irredeemable
Images Courtesy of Kenzie Wager
Redemption doesn't come easily. No one knows it better than boys varsity soccer.
Grandview's varsity soccer team was looking to make up for a brutal 2-1 loss in last year's state final against Arapahoe.
On November 9th, 11 seniors ended their high school soccer career on a very sour note against Pine Creek.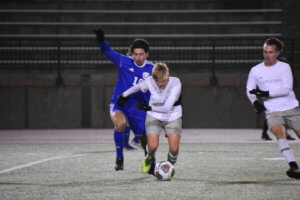 "We tried our hardest in that game and apparently it just wasn't our day to win," senior forward Keith Bates said. 
The Wolves were on a roll before the game against Pine Creek, winning nine of their last 12 games. Unfortunately against the 18th seeded underdogs, the team fell just short.
"It was frustrating," senior midfielder Ethan Corbett said. "Just little things didn't go our way."
One of Grandview main struggles this season was scoring goals, and Pine Creek exploited that by keeping a shutout.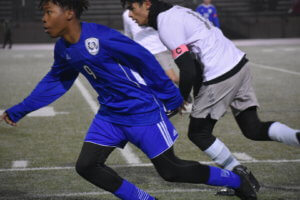 "I thought every time we had a chance just one bad pass or touch would give them back possession," said Corbett. "They capitalized on their chances more than us."
Forward Jay Morales also agrees with Corbett's statement. "We could've tried finishing more since we had more shots but they got lucky with one goal."
Even with not achieving the goal of winning state, the bonds and relationships of these players will last for a long time.
"As a team we had a great season, especially considering that we had only three returning varsity players," said Bates. "This was sadly the only year I got to play on varsity but I enjoyed every aspect of it."