Defending the Den
Photos courtesy of Elsa Lamphere
After last year's season, the girl's varsity volleyball team has made a successful drive forward. They have recovered from previous hardships and had a successful season.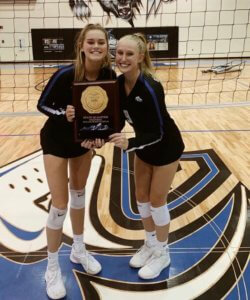 As of now, they are ranked sixth in the state looking forward to state this Thursday, November 14th. 
"We look forward to each game and pick out what we think we have to do in order to beat the team," said sophomore, Isabelle Bennet.
The volleyball team made changes outside of practice that has helped get the team closer and improve their game. 
One of these team bonding activities is called "families," where the players sit and chat with girls from younger teams. This builds the program as a whole and not just the Varsity team.
"It is really like a family," said Georgia Klumker, who is a captain of the team. 
"They also watch films and participate in Friday meetings, which they didn't do before. Fridays have definitely helped the individual teams get on the same page," said Klumker.
The team has also used practice time to improve game situations.  
"We have more quick pace drills, like the one where we don't have any time to celebrate after a point. It's like ball, ball, ball, and that one improves our team and agility," said Bennet.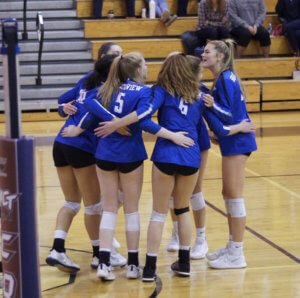 The team now approaches the game with a different mindset which has improved their confidence going into the game. 
"I think we are more confident this year because of our state-run last season and we expect more of ourselves because we've seen how good we can be," said Junior Addison O'Grady. 
The players are very confident in how they play, as well as how the team works with each other. They are also very understanding of each other. 
"We are really confident in our abilities and the team chemistry is very solid and on the same page," said Klumker. 
Their next game is Thursday (11/14) for their playoff matches at 8 am verses Ralston Valley, and at 2 pm versus Chaparral at the Denver Coliseum. Follow the games live, here. Go Wolves!