Stanford Gains a Wolf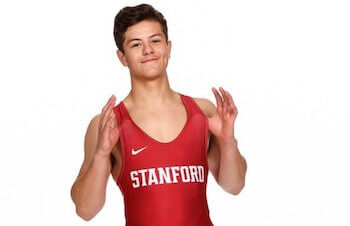 In December of 2016, Grandview High School's Fabian Santillan shocked the country by becoming a national champion in the sport of wrestling. After taking down Colton Yapoujian in the Reno Tournament of Champions with a ridiculous cartwheel move, he was well on his way to competing for the crown.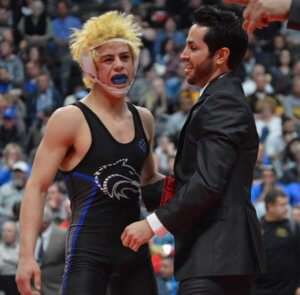 After battling other opponents for the coveted spot all day, he was finally on to the last match. Trailing 4-0 to Ian Timmins, a student of Wooster High School in Reno, Santillan was able to put him on his back three times, leading to a 15-7 victory, which ultimately crowned him the national champion for his 120 pound weight class.
Two years later and still competing in the sport, Santillan is now on his way to the top of the ranks, this time, however, at the collegiate level. This fall, Santillan committed to furthering his athletic and academic career at Stanford University in California.
"It feels pretty good," said Fabian. "It's like surreal- it's still hard to believe."
Santillan's love for wrestling can be traced back to when he was young, and the athlete had always had high hopes for himself.
"I've been wrestling since second grade, and I knew I wanted to wrestle in college since my freshman year," said Santillan.
Being able to commit to college and receive scholarships for wrestling is pretty impressive in itself. In fact, only 4.1% of male high school wrestlers actually compete at any college level.
There were so many people pushing me to get better. It would be impossible to narrow the list down to a few people.
But Santillan knew that he that he didn't want to compete at just any college, he always had his sights set on something bigger.
"When I made my list of possible schools that I wanted to be recruited at, Stanford was at the top and then they started recruiting me, so it just kinda worked out," said Santillan.
The odds, however, weren't in his favor. Even with his extensive history of advanced academic classes, the fact still remained that only 1% of male high school athletes compete at the NCAA Division I level. Nevertheless, Santillan continued his grind in hopes of one day making it to the top.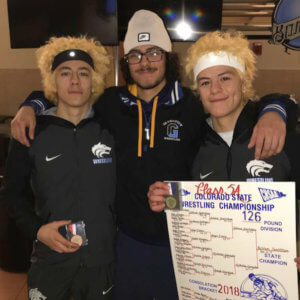 Fabian's hard work and dedication paid off, but even the best athletes know that to be great at what they do, they need endless amounts of support from the outside.
"There were so many people pushing me to get better. It would be impossible to narrow the list down to a few people," said Santillan. "My brothers were definitely on up there on the list though."
Santillan has always been humble in his chase for glory. A piece of advice he wants every young athlete to know (and a piece of advice he wished he'd followed when he was an underclassman) was to simply trust the process, everything always has a way of working itself out.