Wolves Fall to the Eagles in Final Four Game
Photos by: Kristina Boyko
When they came running through the banner, every parent, student and fan crossed their fingers, hoping the Wolves would make it to Mile High.
The team in black and blue came up two points short after putting up a fight to the Valor Christian Eagles.
The game started out rough, with Valor scoring a touchdown in the first couple minutes. Grandview failed to respond, leading to another touchdown for the Eagles after a 20 yard pass by quarterback Luke McCaffrey.
With Grandview behind by two touchdowns, Valor wouldn't quit, adding another 7 points to their lead after a 39 yard rush.
"We all knew we dug ourselves a hole and we had to get out of it by playing harder and smarter," said Junior Colby Morgan.
Grandview finally found a spark when Sophomore Noah Schmidt ran for a touchdown, starting the momentum for the team.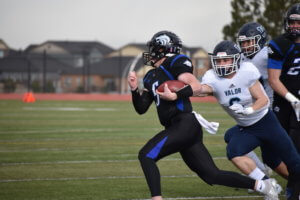 "I knew we had come out a little nervous and slow, but I know that we never gave up. We've been down before and come back to win the game," said Senior Trevor Greenlee.
Then came a huge energy shift when Greenlee recovered a blocked punt and ran into the endzone for another six points.
"I felt like even though we were down, it felt like we were going to win," said Greenlee. "It was good energy."
One of the biggest plays of the came when soccer-turned-football player, Ian Oltman, kicked a 54 yard field goal, only 10 yards short of the longest kick in NFL history.
With both productive plays on offense and defense, Valor lost traction, losing yards tackle after tackle, but still managed to score another 7 points making the score 16-28 with the Eagles on top.
"We came back and did not hang our heads. We faced adversity so well," said Greenlee.
With the fourth quarter underway, Grandview was 12 points behind, hungry for a touchdown. Senior Jordan Billingsley, emerged from the pack earning yet another touchdown for the Wolves.
[I am just] thankful for everything out of the last four years,
Valor answered back with a field goal, which made Grandview 8 points behind. A touchdown and two point conversion was the only way to get the game into overtime.
After a timeout from Grandview, Sophomore Jacob Burr completed an 11 yard touchdown pass to Senior Dayne Prim with under a minute left to spare.
Unsuccessfully, the Wolves tried for an extra two points. Which lead the Eagles to a 31-29 win.
A controversy that came out of the game was an apparent interference by a referee when a two point conversion was being attempted by Grandview.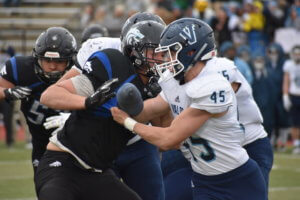 "It's not something we can change," said wide receiver Jordan Smith who was on the field when the play occurred.
The bond that came from this season is unbreakable, and the brotherhood that came out of the Grandview football team sets a standard of friendship for years to come.
"[It's special] to have a team that fights for [their teammates], and doesn't just say that but actually loves the person next to them," said Greenlee.
For the Seniors on the field it would be their last high school game.
"[I am just] thankful for everything out of the last four years," said Billingsley.