Grandview football beats Legacy to face Eaglecrest
The sweet sixteen playoff game, this Saturday, will be a match that any high school football fan will not want to miss.
Every year, Grandview's football team works tirelessly during summer practices, scrimmages and weight room workouts to fulfill their "big bad wolf" persona. Grandview football fans expect to see the football team make it to playoffs every season.
"We expect this every year. Our kids have always done a great job, always worked hard and they always want the chance to be in the hunt," said football Head Coach, John Schultz.
After the win over Legacy on Saturday, Grandview will be facing Eaglecrest. The Raptors are the only loss on Grandview's record this season.
"We are just super excited to get another opportunity to play them again," said junior tight end, Joe Renner. "We just need to stick to our game plan and just get prepared to have another shot."
The two hardest games this year were Creek and Eaglecrest who are right above Grandview in state rankings. Grandview won against Creek in overtime and fell to the Raptors by one in the Homecoming game, which showed Grandview competitive nature.
"Both Creek and Eaglecrest were similar. One was overtime, one was one point so those are the two best teams we have played," said Schultz.
To succeed in playoffs, Grandview needs to go into every game with the same hunger they have had all year.
"We plan on just sticking to our game plan because if we stick to it, there isn't a team that can beat us," said Renner. "Every week we come out with the same mentality with always wanting to make a statement."
"I plan on being 100% and just trying to do my role so I can help bring this team to a state championship," said Renner.
The team plans on growing week by week by winning one game at a time, not by looking at their possible opponents for the next week.
"My focus is winning each game one by one until we win state. Take one week at a time," said junior wide receiver, Jordan Smith.
After winning against Creek and then Legacy, senior Daniel Graney stresses the importance of staying humble and keeping their composure as the team moves through playoffs.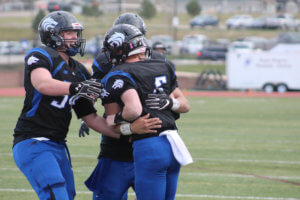 "We can't get too high on our wins and too low on our losses," said Graney. "[We have to] keep preparing like we play the best team in the state every week."
The victory against Creek, who is famous for their consistently successful program, proved that the Wolves are talented enough to play at Mile High.
"[That game] showed us that we are a really dominant team and that we have a really good shot at winning it this year," said Renner.
With all the hype, Coach Schultz thinks that the boys need to focus on the now and what they can do currently to make this program successful.
"If they are thinking ahead then they are in trouble," said Schultz.
As for personal goals, each player's reasoning is different for being out on the field, but Joe Renner looks forward to helping produce a win for the team in blue.
"I plan on being 100% and just trying to do my role so I can help bring this team to a state championship," said Renner.