Hustle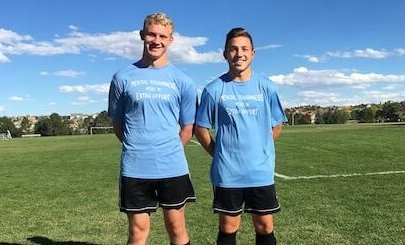 Making varsity is a goal that every high school athlete wants to achieve, but managing to be at the top on two or three varsity teams? Almost unheard of.  
Ian Oltman, a senior, participates in the Grandview varsity soccer and football team. Cobi Wood, a senior, participates on the varsity swim team, varsity soccer team, and the varsity football team.
Together on the football team, they are the only two kickers.
"Ian can hit the ball farther and harder, but I'm much more accurate with my kicks and can control them," Wood said.
Oltman gets his strength from his position as a forward and mid-fielder on the soccer team, while Wood works as goalkeeper.
"I trust him when he goes into my position, and he trusts that I can do his," Wood said. "We both work together to make sure that the team succeeds."
In Cobi Wood's Grandview swimming career he has achieved first place 46 times in the three years he's been on the swim team.  
Outside of Grandview, Wood has participated in both soccer and swimming for 12 years.
Oltman has been playing soccer since he was 5 years old and has achieved 39 total goals in all four seasons in Grandview, thus far.
Of course, being heavily involved in so many sports causes a lot of stress.
"I had all this [pressure] riding on me as a freshman," Wood said. "They [the teammates]  expect you to do great."
He explained that since he had been in swimming club for so long and had made himself well known in the community, the upperclassmen already knew who he was before he joined the team.
Pressure aside, athletes can't let it get to their heads.
"When I train, I know I'm working to be better, that when I get into a meet, I'll know what I'm doing and just do it," Wood said.
Oltman suggests to make sure that being successful doesn't come at the expense of your passion for the sport.
"Just have fun with it, because the chances of going pro at the highest level of a sport is very rare," Oltman said.
"Make sure you enjoy it when you can, because you're only gonna be a kid once in your life."
Working hard has gotten teammates Wood and Oltman far, but sometimes setbacks happen that are out of their control.
"Last year for football I had an injury. I had to get surgery during summer for it," Oltman said."I tore my libra and my biceps."
Injuries like tendinitis can take an athlete out for an entire season, because continuing to play can worsen the injury to the extent of permanent damage.
"My sophomore year, I had tendinitis in my shoulders. You need shoulders for everything in swimming," Wood said.
No matter how frustrating injuries can be, there are ways to bounce back.
"I was the leader in a way, I was only a sophomore, but they relied on me," Wood said. "I had to do a lot of PT [physical therapy] to get back in, because my team needed me."
As an athlete, in order to reduce the risk of injuries, preventative measures should be practiced everyday.
"Make sure you are stretching, stay hydrated, and keep yourself healthy," said Oltman.
Both being seniors, dealing with school and other hardships that come with being a teenager, Ian Oltman and Cobi Wood managed to be high level athletes in multiple sports. There is no doubt that their hustle paid off.
Grandview's varsity boys soccer team is currently ranked 4th in the state. Oltman has scored 4 overall goals and Wood having 33 saves in the current 2018 season.
Grandview's varsity football team is currently ranked 6th in the state. Oltman has a total of 2462 yards kicked and Wood has an average of 6.1 points per game in the 2018 season.
"You'll mess up, you'll have a bad day. You won't be perfect like everyone expects you to and you just have to keep going. You always have to keep battling the good fight," said Wood.
For more information on the players featured in this article, check out the links below:
Ian Oltman Stats: http://www.maxpreps.com/athlete/ian-oltman/c2WSWUjKEeW-8KA2nzwbTA/default.htm
Cobi Woods Stats: http://www.maxpreps.com/athlete/cobi-wood/wuq2r-c8EeW-8KA2nzwbTA/gendersport/football-stats.htm