When The Wolves Don't Howl
It's an October Friday night, and the Grandview football team is playing at Legacy Stadium.  Grandview is the home team, and is playing against a rival school, yet we have less than 50 students in the stands. The other team, however, has a section completely full of screaming fans.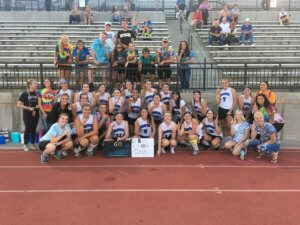 It is evident at many of our school events, that we seem to have a small turnout of Grandview students. But why is this, why aren't we showing our Wolf pride?
"I do believe that Grandview is lacking in school spirit. This is not just because of less attendance at sporting events or not being involved in the events put on by school, not only by leadership, but by other clubs and groups," said Joseph George, Grandview's Student Body President.
Lily Mattingly, a senior, offered a similar opinion. "I think we definitely lack school spirit and it's sad because we have a lot of things to celebrate but we just don't care."
But before addressing the issue, we must first define "school spirit".
"The general population of the school showing pride in the school and showing up to events and participating whenever they can," said Mattingly on what school spirit means to her.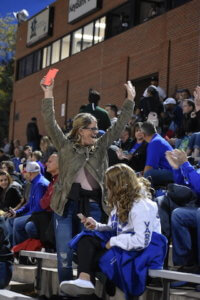 George noted that "School spirit for me is just this basic or simple feeling of being proud of being a Wolf. It seems that some groups feel isolated from other groups and there is not a unity within the school and this pride of being Wolves".
Grandview's lack of school spirit tends to cause some problems.
"I think both [our athletes and school image] suffer. However, athletes are not alone when it comes to suffering. They are great groups of students that belong to clubs and organizations that do not get the appreciation and the support that they should," George responded.
"Athletes suffer because they have now grown accustomed to not having crowds at their games and that the school does not care about them. Even sports such as football do not get great support on a regular basis. Other events as well suffer like concerts or thespian productions," said George.
"I have seen an increase in thespian participation, on the other hand, more support and appreciation and overall unity in the school is the main goal. There is almost a mentality where if people do not go to my event, why should I go to their events and that needs to be addressed and changed," he continued.
As Wolves, we should have that pack community and be known as a school with a lot of school spirit, and Leadership has been working hard to make it happen.
"We have had a whole project before winter break to address this "epidemic" if you will. There have been great ideas brought to the table and can hopefully be implemented if not before this year ends, then by next year," said George.
Leadership is planning on creating small groups of people to lead the cheers at sporting events called the "Grandview Growlers" or the "Spirit Pack" to increase attendance and create a more spirited atmosphere.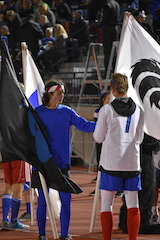 George continued with specific events started to boost school spirit.
"We have also moved to incorporate new traditions such as Ms. Grandview and a Sadie Hawkins or a Wish Week Dance to have new events that students can be excited for. Leadership is also moving towards knowing when club meetings and sporting events are so that they can invite their friends to got to meeting or events and that will hopefully start a trend of school participation"
Joseph hopes that this will create a snowball effect, benefitting the school and the spirit within.
Our Student Body President asks us to make Grandview a more inclusive environment by branching out a little bit each day, doing something as simple as introducing yourself to someone new, in order to improve our overall school unity.
Mattingly explained it more simply, "I think if we can just change the mentality around what school spirit is and change the stigma so kids don't feel like it's uncool to be proud of your school".
Ultimately, we should all be working to make Grandview a more inclusive and pack oriented school. It will take all of our support to replace our small showing with a huge wolf spirit, but we can do it. Let's all do our part, do your best to show up at school events, and show our Grandview Leadership some support.