Lessons Learned In San Francisco: The National High School Journalism Convention
I never understood what Indira Gandhi meant when she said, " Every new experience brings its own maturity and a greater clarity of vision." But over four days in a gorgeous city, I have learned more about myself and the person I have envisioned myself to become. 
Although I was overflowing with anxiety while walking into the San Francisco Hilton, I couldn't deny that part of me felt like I was walking into a movie.
I first took notice of the concierge men and women in gray outfits with three buttons on their blazers, and the loud voices of excited, and nerdy students from all over the country in the background. 
The uncontained energy felt in the lobby of the San Francisco Hilton could have knocked out even the strongest MMA fighter. 
Continuing my journey to tower two, room number 1014, I anticipated the bright white sheets and smell of fresh linen throughout my room, and what I was met with exceeded my expectations. 
Room 1014 was bright and beautiful with an amazing view of all the unique gift shops and restaurants that San Francisco had to offer. 
I had never been by myself on vacation for the first 15 years of my life, yet I knew that organization with my roommate was going to be the biggest priority. 
Once the priorities and beds were distributed I could finally relax and become enticed in the environment that I was in.  
The overwhelming happiness on all of my fellow journalists' faces made me realize that I could allow my nerdy side to swing into full effect. 
Once I grabbed my iced Caramel Macchiato and went to my first offered course: Journalism Writing, I became outspoken. 
Speaking out on issues I have noticed in my writing or my interviews and hearing others have solutions for my struggles caused me to see that I wasn't alone. 
It wasn't long before I saw a change in my demeanor and approach toward my issues in journalism.
I saw myself shift from a shy introverted young woman into a young woman that could speak on worldwide issues in journalism no matter the amount of anxiety I felt. 
In my next offered course I didn't know what to expect, all I knew was that I would be in a room of other like-minded journalists, all with an infatuation with communication and culture building.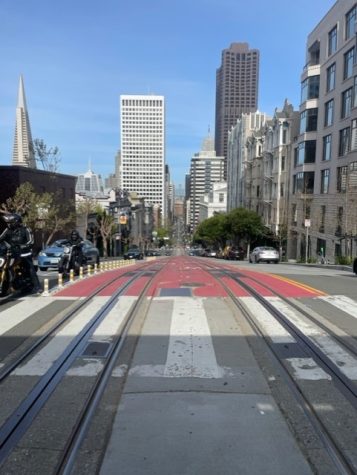 Many eager hands shot up like a rocket flying through the sky to get their questions answered. Question after question grew a larger desire in the pit of my stomach to voice my concerns. 
Knowing that fellow journalists wanted to learn and grow, as well, made it easier for me to open up. 
Sadly, my heart was soon consumed with overwhelming emotion while walking through the many blocks of San Francisco.
The sight of homeless people rummaging through bags of trash was one of intensity, yet it showed me that not everyone is as lucky as I am to stumble into a warm home with a home-cooked meal. 
I had discovered a new sense of humbleness and thankfulness for all of the sacrifices that my family had journeyed through for me. 
It's not just the lessons San Francisco has taught me about humanity that left an impression on my persona. San Francisco made it clear to me that to fear is to grow, to stumble is to walk, and to stutter is to speak volumes. I didn't fear the truth or the different stories that the world had anymore. 
All I feared was the chance of not experiencing new cultures, food, work ethic, and most importantly a new me.