A Midsummer Night's Dream: The 2023 Spring Play
"One way that Miss Lindahl, the director, put it was we are one of the only species that uses imagination like we do, and we should really try and harness that," Mullen said.  "The audience is going to see a lot of things that they wouldn't expect to see in a high school show."
The magical world of Shakespeare will come to life on April 28th when the curtains rise on this year's spring play, A Midsummer Night's Dream.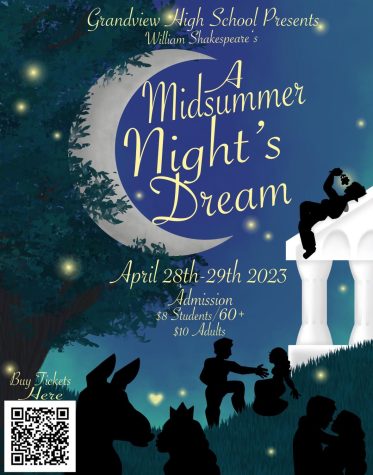 "Since everyone is taking an English class, odds are, they've all read a play by Shakespeare. A Midsummer Night's Dream is one of the more famous plays that he's written. So it's a chance to see that production brought to life," Publicity Manager Kate Mullin said.
A Midsummer Night's Dream is a Shakespearean comedy, set in a world of fairies, kings, and queens. It's an interesting and captivating classic, which can bring students' imaginative images to life. 
"It's a great way to get people kind of interested in the performing arts because if you know this show already, you could come see it on stage," Mullen said.  "A lot of the time seeing it helps people understand it a lot better than just reading it because you're able to actually see what's happening."
The unique features of this show give the cast and crew a huge opportunity to branch out with this production and evolve their craft.
"We're really trying to capture the essence of 'this is crazy, this is a dream.'" Mullin said. "It's a really good chance to give the actors and the tech people opportunities to work with different kinds of shows. We are doing some really cool things with our lights and our costumes, especially, as well as our sets, we are trying to really make it so that the imagination runs wild with the show."
The show is also allowing the crew and cast to delve into their inner child, pull from their imaginations, and work collaboratively to bring the production to life. 
"It's so cool to see all of the different crews working together and making sure that we have a cohesive idea of what we want the show to be like and then being able to see how each crew puts their own spin on what costumes is doing and how they're working with scenic design and aspect to colors and things like that," Mullin said.
The cast and crew have delved deep into themselves and accessed a solely-human ability in order to bring the show to life, while also pushing the traditional boundaries of high school theater. 
"One way that Miss Lindahl, the director, put it was we are one of the only species that uses imagination like we do, and we should really try and harness that," Mullen said.  "The audience is going to see a lot of things that they wouldn't expect to see in a high school show."
Performing Arts is hoping to make this year's spring performance stand out from the rest and immerse the audience in the show. Between costumes, tech, and acting, this performance is going to be truly magical. 
"Seeing it all on stage is going to be cool,"  Mullin said.  "[The effects] will create such a magical effects, and once the actors come on stage and they start performing, I think the entire show is just going to be incredible."