Wolves Recover in Win Against Arapahoe
Story and Photos By Dibo Elango
On Friday, January 10th, Grandview boys' basketball continued to show grit and redeem themselves after the double-overtime loss to Smoky Hill. They topped the Arapahoe Warriors 62-40.
When prepping for the game, the team knew that they needed to compete. The whole Centennial League has some of the best teams in the state.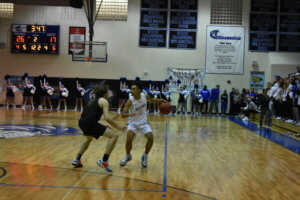 "We knew they didn't have any size but we knew they had guards so we needed to play pretty good," said senior Tanner Holtman.
Upperclassmen Caleb Mcgill, Tanner Holtman, and CJ Thomas lead the way in scoring with double figures.
"I think it was a good game, we came out with a lot of energy," said Holtman. "We had a little lapse in the third quarter, but we came back and finished strong." 
The third quarter was a rough one, with Arapahoe outscoring Grandview, 11-10. 
"We needed to get more defensive rebounds because we gave them offensive rebounds which lead to easy points for Arapahoe," said senior CJ Thomas.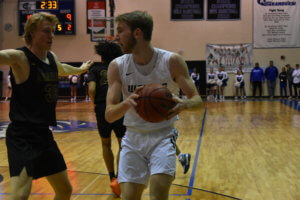 Aggression during the game definitely kept the viewers on their toes and lead to a rowdy Arapahoe student section, as well as tensions between coaching staff. It was a very physical game, totaling 36 fouls between the two teams. 
At the end of the second period, Grandview was up 35 to 17. Arapahoe was not going down without a flight.
"We can't have those lapses," said Holtman. " We have to stay strong all the way through the lineup." 
With Grandview's lead so high, the boys still came out victorious. 
"It was a good bounce-back win against Arapahoe," said Thomas. 
This week, your Grandview Wolves face rival Cherokee Trail, Wednesday (1/15) at 7 pm at home, and Eaglecrest (1/17) at 7 pm also at home. The boys need to focus on working as a team.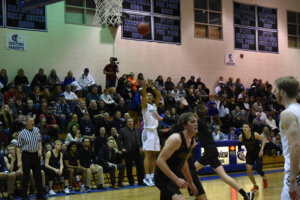 "Against CT we need to stay focused the whole game and not let their record fool us," said Thomas. "We can't play bad team basketball."
Check out game highlights here.