[BREAKING] Lauren Betts named Gatorade's Colorado Girls Basketball Player of the Year
Senior Lauren Betts has been named the 2021-22 Gatorade Colorado Girls Basketball of the Year. This is her second straight year winning the award.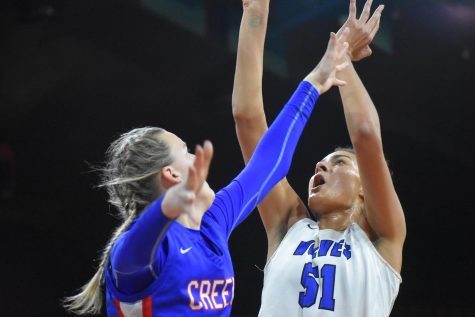 The #1 ranked recruit in the nation and McDonald's All-American becomes the fourth player to win the award multiple times, joining Horizon's Katie Cronin (1993-95), Highlands Ranch's Ann Strothers (2000-02), and Grandview's very own Michaela Onyenwere, who won it three consecutive times (2014-17).
Betts has led the girls' basketball program to a 16-9 record this year as they will take on No. 2 Highlands Ranch in the Final Four Thursday night at the Denver Coliseum. The 6-foot-7, Stanford-bound center has averaged 17 points, 11 rebounds and 3 blocks a game in 24 games this season.
For the Gatorade National Player of the Year award, Betts is now a finalist along with the other state winners across the country.