Here are Meraki's winners for our 2017 Halloween and Horror Writing and Art Contest.
Jenna Greenhouse (10th) took 1st place with her graphite drawing: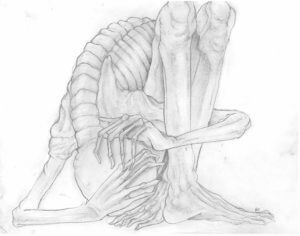 Max Reid (10th) took 2nd place with his poem "Amelia".
Amelia
Amelia was stung by a wasp today
In fear of the wasp, she ran fast away
Story continues below advertisement
She dove in water, she used bug spray
Spraying it like a priest making a demon go back to where he came
But a wasp can fly, Amelia cannot
There was nothing she could do to make the wasp stop
The wasp pierced her skin and left a small red dot
She cried and screamed from the pain which was brought
But pain is temporary, so she gradually ended her vain distraught
Amelia found an artifact today
A board illustrated with numbers and letters that was starting its long awaited decay
She placed down the pointer, lay her fingers, and said what they all say
"Are there any spirits in here" she prayed
The pointer trickled towards the top, without any muscles being swayed
It landed on yes, and planted itself there as if forever it would stay
Her eyes widen and she gulped, realizing the grim mistake she made
She flipped over the board, too panicked to be afraid
Following her was a tranquil translucent entity stalking her draughty, shattering every single mirror in it's way
Amelia was flung from the couch today
It was like a force hit her, as she suddenly flew ten feet away
Her body collided with the TV, shattering it's glass
She stood right up, oblivious to her cuts and her crevasse
It scared her body but she seemed impervious to the pain
There has been strange things in her house that wanes
Pictures have been pushed, footsteps when there was supposed to be one soul in this residential plane
But Amelia's incident was the strangest that this house contains
Now it's like there's nothing in her eyes, like she doesn't even have a brain
Amelia was taken to the hospital today
Numerous amounts of cuts have appeared on her body
A cut dashed her face, her arms, and her head
She will be put in constraints due to the dread
The dread she may hurt herself again
But something strange happened yesterday
Her mother found words etched into her skin of dismay
Her skin said "We are servants of Satan desecrating this soul away"
Amelia was visited by three priests today
Two walked out of the hospital bay
More words were etched into her skin
Words that proclaimed "This is our body now, let it decay!
Neither Jesus nor his angels can help you today
Let her soul die and be sent to hell with pain and doomsday!"
The first priest went pale when it entered his sight
The other went to a trashcan and vomited at the plight
The only valiant of the three trickled holy water at Amelia's feet
Her green skin sizzled and turned charcoal without ease
With the force of a monster she lifted the restraints and launched at the brave priest
She barraged herself at him and lifted him off his feet
She exposed the state of her stinging, yellow, depraved teeth
And she dug into his neck as if the priest was a rabbit at wolf's feet
Amelia had her sixty sixth exorcist today
It's doing nothing to help with her depraved state
Her remaining skin is light green and her remaining hair light grey
As skin and hair has slowly started to simply fall away
The two priests continue their chant every single day
At this point, they show no remorse as it screams in pain
It's voice is lower, it's eyes are yellow
It sounds like a maniac, like nothing from this existential plane
It never stops smiling except when the exorcism is under way
It has pleasant conversations before chomping on poor nurses that come in it's space
It has bruises and blood stains map the plains of it's dead skin
But they become obsolete as they are always ripped off in pain
A cross and rosary is placed underneath her bed every night
Put they all are found smashed to pieces or in the neck of a rat that has unfortunately went in the way
The cost to expel the demons has become too much
They're sending in the bishop to expel the demon that has stayed
Amelia was sent to hell today
In fear of the demons, she ran fast away
She dove in holy water, she used a rosary
Spraying it like someone trying to repel a wasp to back where he came
But demons can be translucent, Amelia is not
There was nothing she could do to make the demons stop
The demons pierced her skin and turned it into a flesh bag of rot and decay
They manifested in her heart and performed their decadent rituals all day, starting to become a main stay, as they were summoned they will never go away, and on the six hundred sixty sixth decay with the bishop's blood in the guts the body that they claim, they had the power to secure the girl's fate
She cried and screamed on the inside of her decaying brain
Because Hell is forever, and the demons dragged her nine layers down to the inferno plane.