The Grand Art Show 2022
The Grand Art Show is a celebration of visual arts.
"I'm so involved with it, it feels like the culminating event of my high school career," senior Jessie Grubenhoff said, "Way more than all of my AP tests and stuff that I put lots of work into."
  Many artists were excited to get their art showcased in the Grand Art Show for the first time. It's an event that hasn't happened for the past three years. Seniors who participated only had the chance to see it during their freshman year.
"I'm super pumped for it, I've been preparing for it since freshman year so I'm excited," senior Alex Nishida said. "It's kinda weird, I'm not used to that kind of experience, though I think it's definitely a necessary experience to go through, which is just this process of getting the art ready and being at the art show to present it all, which I'm totally hyped for."
 Juniors who displayed their art had never even witnessed a Grand Art Show before.
"I'm really honored," junior Noah Burgan said. "It's like a dream come true to be able to share my art with the people around me and express myself,  just because my art is so intimate to who I am."
Before Covid, the Grand Art Show was arguably one of the biggest events at Grandview.
"In years past, we would have a few thousand people coming through for the event," teacher, Mr. Heckendorf said. "Families, friends, everyone was getting absorbed and blown away – they had no idea how grand the actual show was until they came to Grandview."
The art show gives students a chance to show off their talent in a positive and safe place.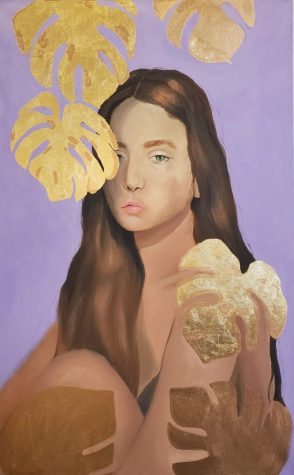 "Grandview is a very sports and academic oriented school," Heckendorf said. "This [event] gives our students in the visual arts programs an opportunity to express themselves and show all the creative talent that they have."
The art show combines the works of high school artists with the ones of students from elementary and middle schools that feed into Grandview.
"It's a great way for them to see what's next, once they get to the high school level." Heckendorf said. "[And we get to] celebrate what they're beginning. All the foundations for these art skills start at the elementary level." 
"The pride of having been chosen for a show, or having [their] art in a show has a lasting effect on the emotional state of a student," middle school photography teacher Laura Coupas said. "When art is shown in a professional manner, it brings a sense of honor and prestige to the work."
Many of the middle school students don't expect to be in the show, as Coupas can only choose about 40 to 50 pieces to display from her photography students. Many of them are surprised by the news.
"It feels great [to have my work shown,]" eighth grader Skylar Steiner said. "Not many art pieces get selected. It's kind of thrilling. People want to see my work and at a different school, a high school and with that many people."
While art from elementary and middle schools are shown in many display cases, Grandview artists especially take the stage with their wall-size exhibitions. Senior artists got a whole display case to themselves, which you can view in the lower commons area.
Many took the chance to share their experiences with the school. Burgan documents her process of transitioning and growing up with her wall-size exhibition, "Growing Pains."
"As a woman, you don't feel heard in society, especially as a queer woman," Burgan said. "[Art] provides this opportunity and platform where I can just be myself and not need other people's opinions to validate it. "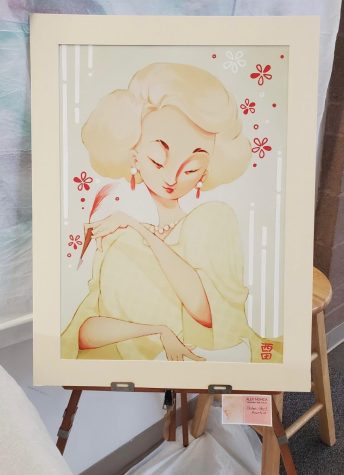 Nishida draws inspiration from Japanese culture.
"I'd say a lot of it is [about] emphasizing the natural aspects of the world and really embracing the mistakes we make," Nishida said. "So when I mess up, which happens regardless of if it's digital art, I do my best to embrace it and not be ashamed of it; [it becomes] integral to the piece itself." 
Grubenhoff values experimenting with different techniques and subjects.
"For me it's [about] trying new things; I would say that's the common idea." Grubenhoff said. "[With] every single piece, I've tried something I haven't done before, all of my pieces have something that you're not gonna see as a copy of something else."  
However original they may be, artists are often not recognized for their efforts.
"I don't think [artists are] appreciated to the extent that they should be." Grubenhoff said. "Culturally, I think there's a big movement towards doing something 'useful' with your life and making lots of money and stuff like that, and people don't think you can do that with art."
"Artists are normally underrated," Nishida said, "Which is unfortunate but I'm glad that, because we have the art show here, we're able to express our artistic community and show off what all the creative students here can do."
Students and staff of the Grandview art department work hard to make sure artists get this opportunity, working in unison with other departments. Culinary arts students prepare food for the event while performing arts students provide music. 
"Some of us can express ourselves through words, through music, through talking and others are more comfortable doing it through art mediums." Heckendorf said. "A piece of artwork is like a time capsule that shows where we're at, right here, right now in a unique form of expression."