A Rollercoaster Season Pays Off: 2021/22 Girls Basketball Season Recap
The 2020/21 season was relatively disappointing for the girls' basketball program. The Wolves lost to Regis Jesuit in the state semifinals in a 73-69 heartbreaking loss, finishing with a record of 17-1 in a shortened season due to the COVID-19 pandemic.
Heading into this season, the team was suffering from a three-year title drought, losing to Cherry Creek 51-49 in the title game in 2019 and having their opportunity in the 2020 title game not being fulfilled due to it getting canceled.
For long-time head coach Josh Ulitzky, he knew something had to change.
"We really thought that one of the things we needed to do was to play a really tough schedule to test us and to make sure we didn't repeat things as we did in the past," said Ulitzky. In the past, we've gotten to the playoffs and weren't as tested so that really hurt us."
This season, the girls played in three out-of-state tournaments: the She Got Game Classic in Dallas, the Nike Tournament of Champions in Phoenix, and finally the Girls Basketball Invitation in Minneapolis to round it out. Over the span of those trips, the team played some of the best teams in the country including Texas's Desoto High School and Minnesota's Hopkins High School, who were the #2 and #3 ranked team in the nation when they squared off against the Wolves.
"For me, it was very humbling in the sense that it's really scary to get off those planes and go to these tournaments and believe in yourself, said assistant coach Will Baird. "Time and time again, I've seen these girls show up and slowly realize they were one of the best teams in the nation and that they belong in these tournaments."
Despite going 1-8 in those games, the team felt more prepared heading into the rest of the season.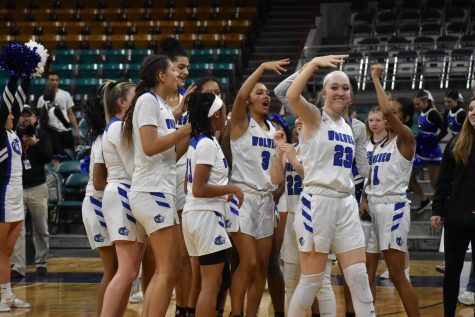 "It helped give them some perspective and understand that when we came back [from out-of-state games] we weren't going to face anyone tougher than what we've already faced, said Ulitzky."
Sophomore guard Gabriella Cunningham, one of the main contributors to their title run, shared similar thoughts.
"As hard as it was, it really prepared us for the state championship and prepared us more mentally and physically," said Cunningham.
After starting the season 5-9, the girls went undefeated throughout the remainder of the season going on a 13-game win streak. The team's Big Three consisting of seniors Lauren Betts (McDonald's All American) and Marya Hudgins along with freshman Sienna Betts were key in their run as they averaged 17, 16, and ten points per game respectively this season. Guards Amaya Charles  (6.5 ppg), Isa Dillehay (2 ppg), and Cunningham (3.5 ppg) were also key contributors for this season on both sides of the ball.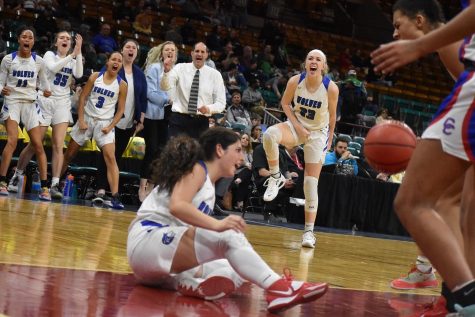 "I really wanted to make sure that I fulfilled my role on the team, whether it would be on defense or offense," said Cunningham.
In the postseason, they dominated their competition, beating Pueblo West, Pine Creek, Cherry Creek and Highlands Ranch all by double digits as they advanced to the state title game at the Denver Coliseum. The team's defense was outstanding in those four games, only allowing 37 points per game.
"We played more of a half-court game this year where we slowed things down as supposed to be in transition and that just fit our team a lot better, said Ulitzky." "They really bought into that along with sharing the basketball and playing tough defensively."
In the title game, they squared up to play against Valor Christian for a second time after previously beating them 59-52 on January 8th.
"The preparation was very quiet," said Cunningham. "Our team was very focused and during the shootaround, everybody was encouraging each other."
Coaches Ulitzky and Baird shared the game plan going into the match against Valor as well.
"The big thing heading into the game was to limit their three point attempts [by] covering the three-point line and making it really challenging for them," said Ulitzky. "The other part for us was to take care of the basketball because I knew they were going to try to press and trap us."
"Our game plan was effective but those girls just came out and balled," said Baird. There wasn't anything they could do to stop them that night.
It wasn't going to be an easy game as they were going up against McDonald's All-American center Raegan Beers, the #10 ranked player in the nation.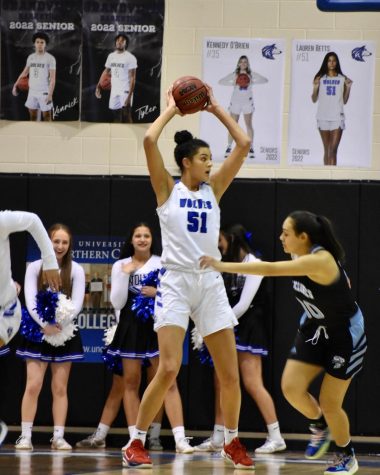 "It's not too often you have two All-American players playing against each other in the championship game," said Ulitzky. "I felt really confident that Lauren [Betts] and her were gonna play well, but I thought Lauren would have the advantage there."
In the end, Grandview won their third title in just five years after beating Valor in a 52-40 wire-to-wire win. After the final buzzer went off, emotions were of course very high.
"I'm so happy to see the players celebrate and enjoy each other," said Ulitzky. "Obviously, you know you've accomplished a big goal but just seeing the look of joy on their faces was really worthwhile."
"It started six minutes into the 4th quarter and I just started crying," said Baird. "It was like a reflection of everything these kids have been through."
Looking back at the season, it was story filled with plenty of ups-and-downs but the team were still able to overcome many challenges throughout.
"These girls go through a lot," said Baird. "Judged by the whole world [with] everyone thinking they're perfect. No one letting them by humans. No one recognizing they're high school girls plus athletes. For me, I'm so inspired and awed by them doing things that a lot of people can't do."
In a very eventful season filled with many bumps in the road, the girls basketball program still found their path to another state championship.
"For them to end their legacy as champions and to prove the haters wrong, they can't say nothing to us," said Baird. 
Click the link below for the video of GVTV's documentary on the team's season.