Athlete of the Week – Courtney Ladymon (3/28)
What is your name and what grade are you in?
Courtney Ladymon, and I'm in 11th grade.
What is your favorite type of food?
My favorite type of food is Honey Chipotle Chicken Crispers from Chili's.
What is your favorite class?
My favorite class is my Spanish class [because] I just have a lot of friends in there, and I have a good teacher.
How long have you been golfing?
I've been golfing since sixth grade.
What do you enjoy about golf?
I just enjoy that I can go do it with my Dad and then my friends because people think golf is really boring which, if you're not doing it with fun people, I admit, it probably is really boring. But we do make it really fun.
Have you ever hit a hole-in-one?
Yes I have. Honestly, my Dad was more excited than I was. I was like, Mmmh cool, but you know, it was pretty cool.
Then what was your best score in a game of golf?
My best score was an 81, and of course, instead of it happening in a tournament, it happened during a practice round, but that's ok. It was really cool. Really exciting.
Lots of important or rich influencers enjoy golfing. Is that a reason you wanted to golf?
Well I really want to go into business and a lot of business meetings do happen on the golf course, so it would help if I could beat them while also making a business deal with them.
Are you excited for the upcoming golf season?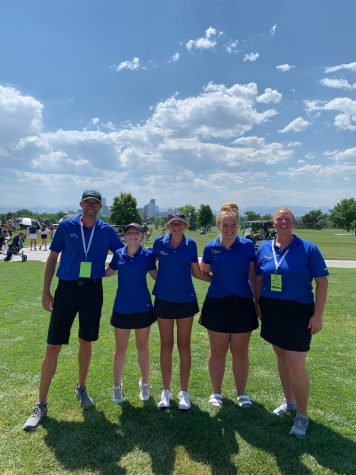 I'm really excited. Hopefully weather permits. But last season went so well that I'm just so excited for this one. 
What has it been like having every golf match canceled due to weather?
I have gotten used to it. But it's really sad because we all usually plan to carpool and then it gets canceled. But they will all get rescheduled and it will all be ok in the end.
What are some goals for the season?
Goals for the season are just to become more consistent and get better at my putting. Then hopefully, to connect better with my teammates. I feel like golf is very individual. But I think we would thrive if we did better connecting with each other and growing as a team.
So as you plan on doing business, do you plan to pursue golf in the future?
I don't plan to pursue it in college, but I will keep playing.