Grandview's Prom Dress Exchange
With Prom coming up things can get quite hectic and expensive, or some just don't have the time to go dress shopping. 
Janhavi Kulkarni, a senior and co-founder of  Grandview's Creya, came up with the idea of a dress exchange.
Kulkarni's personal motivation came from her friends, and a dress just sitting in her sister's closet. 
"Our LGBTQIA+ community getting dresses or obtaining dresses for Prom, Homecoming, or interviews is so hard," said Kulkarni. "I realized that our community has so many dresses to give up."
Most people buy dresses and only wear them once or twice. They end up in a closet collecting dust.
"I realized this was a problem as soon as my sister had her two beautiful Prom dresses just sitting at home," said Kalkarni. 
The dress exchange supplies a variety of dresses in all sizes, and styles along with heels.
 "Everybody can take whatever they want for free," said Kulkarni. "There will be shoes and help with hair and makeup."  
Already a large amount of dresses have been collected and more are always wanted. 
"We have over 125 dresses so far," said Kulkarni. 
If people still have dresses sitting in their closets they want to get rid of, donation opportunities are still open.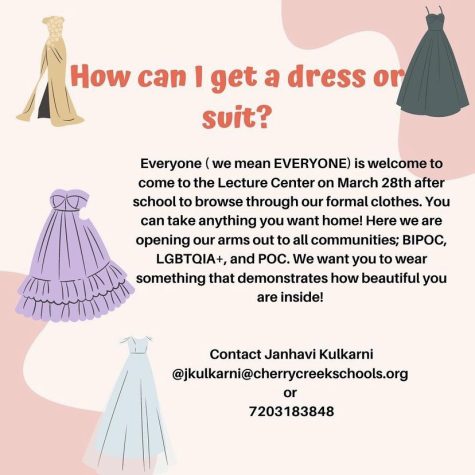 "People can drop them off at the activities office before March 28th," said Kulkarni. 
If students or teachers want to attend, and take a look, they are more than welcome to. This event is also open for students who aren't planning on attending Prom.
"The exchange is going to take place Monday March 28th from 3:45 to 5:45 in the lecture Center," said Kulkarni. "Anyone is welcome to come pick up anything you want for free." 
Kulkarni has faith that the dress exchange tradition will continue to go on, and continue to help Grandview students be the best version of themselves.
 "I know that it's just going to stay an awesome tradition at Grandview," said Kulkarni. "I just hope everybody feels their most beautiful self and embraces themselves."