Athlete of the Week – Andrew Sarro (2/28)
What is your name?
Andrew Sarro.
What grade are you in?
12th grade.
What's your favorite food?   
I really like pancakes [because' I'm a big breakfast food guy and I just like the sweet… cakiness [of it].
How long have you been wrestling?
Since 5th grade, so what would that be… Like 8 years? Something like that.
Why do you like wrestling?
I just like the fact that it's an individual sport, so when I go out there, everything is on me, so if I win, it's because I did something good or if I lose, it's on me. But I also like that you still have a team and everything I do still affects my team.
Is that what made you want to wrestle?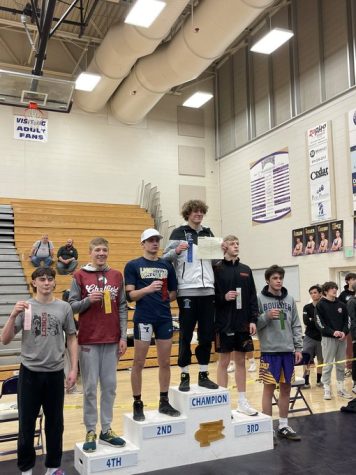 Yeah. Being able to go out there every day and get better myself but also hang out with a team just really got me started.
How did it feel to become the regional champion in wrestling?
It was pretty surreal to be honest. I was mainly focused on just qualifying for State but by the time that match came around, I just went out there and gave everything and it felt pretty good to win.
Do you plan to pursue wrestling in college or after high school at all?
I'm still deciding right now. I think I might try and walk on somewhere but right now I'm still undecided.