The Scholastic Art Fair Winners of 2021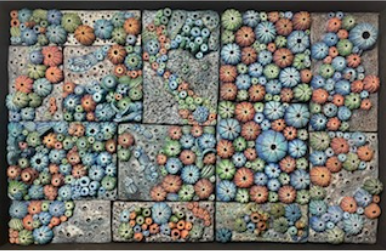 The Scholastic Art and Writing Awards is the nation's most prestigious competition for creative students in 7-12th grade. Last year, three students from Grandview were awarded for their submissions to the 2021 Regional Awards. All  six of the winning pieces from Grandview will be exhibited at the Chancery Art Space from February 14th to March 29, 2022. You can find more information about the exhibitions here. 
"So I have loved art probably ever since I could express myself," senior Skylar Mckinney said. "[Making art has] helped me immensely. I'm typically more of a reserved person so being able to express my emotions and my voice through my art has been really helpful."
Mckinney won a silver key from Scholastic for her fashion piece, "Forest of Ruin." She wanted to visually communicate how humans have polluted the earth.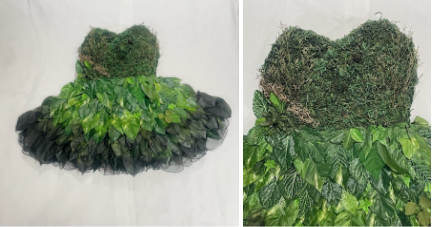 "You can see how it fades from green to black," Mckinney said. "[It is] showing how the earth is slowly dying."
Mckinney's works are strongly influenced by nature, which is an important part of her culture.
"A lot of my art is more organic and abstract and [has] a lot to do with nature," Mckinney said. "I do have a Vietnamese heritage, which is really close to nature [and] these natural elements that I have emulated in some of my pieces."
Mckinney also won gold keys from Scholastic for her ceramic pieces, "Mechanical Heart" and "A Hidden Treasure." While she is proud of these pieces, Mckinney admits that creating them was a tedious process.
"I definitely fell in the slump of ugh this is so monotonous [and] it was really time consuming," Mckinney said. "But just thinking about the end goal and how all my tiles would come together to create something very unified [motivated me.]"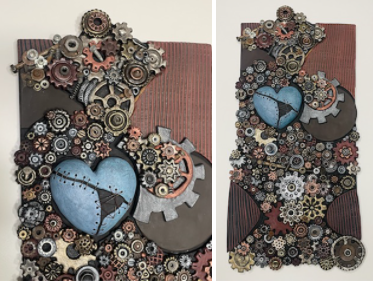 "[For this piece] I was really thinking of the idea of what makes your heart tick, what're the gears of your heart, how does your heart function," Mckinney said. "I started with the base of my tiles  and then I would make little ceramic gears and I would attach them to the ceramic tile [which is] glued onto a wooden armature and then I [made it] mixed media [and glued on] actual screws, metal hardware, bolts, things like that."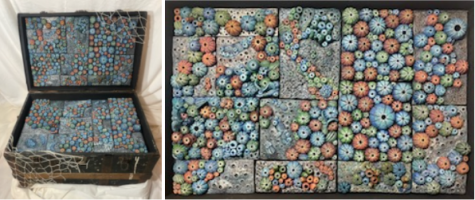 "The most stressful piece for me has been 'A Hidden Treasure' just because it has to be exhibited at a museum and just having to figure out the functional part and how to display it correctly [has been hard,]" Mckinney said. "The fact that it's going to be recognized [and] it's going to be fulfilled [helped me manage the stress.]"
Motivation is often a struggle when it comes to big projects.
"[My piece was for] a grade," junior Noah Burgan says. "so I had to finish it to pass the class. I think that pressure pushed me to actually finish the piece."
Burgan won a silver key for her ceramics piece, "Secrete."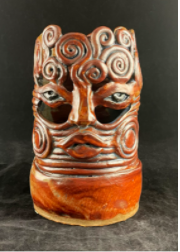 "It's like [you are] hiding your secrets and they're slowly coming out." Burgan said. "So you're able to look through the piece and you can reach inside."
Burgan was also awarded a gold key for her ceramics piece, "queer."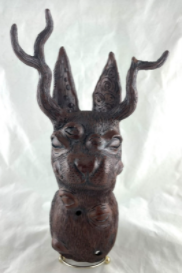 "I think my goal was to create a piece that was about being weird and wanting to be creative and having all these eyes on me," Burgan said. "So I use the word queer as a way to not only [mean] being gay but also to describe something as weird. Queer people can be seen as weird and that's just kind of like what pushed me to create this creature. 
The idea of "queer" was one that grew on Burgan as she created it.
"It started developing as I sketched out what I wanted to create," Burgan said. "And somehow as I created it, the piece started to become more meaningful to me."
Burgan is queer herself, and art has helped her with feeling represented in her community.
"I think that's my goal, to impact other [people,]" Burgan said. "[I want] to give them that space to feel represented and feel seen. I feel like Scholastic has provided for that platform to share everyone's voices and [our] story."
Yet, Burgan did not expect to win anything when she submitted her pieces.
"I had no clue," Burgan said. "I was so surprised that anything even came out of it." 
A lot of the contestants submitted just to give it a shot. 
"I couldn't believe it," freshman Sienna Duggan said. "I thought people misheard or something."
Duggan won a Silver Key from Scholastic for her photography piece, "Free Eyes."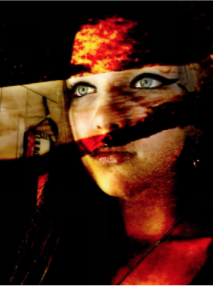 She originally created the piece as an assignment for her photography class.
"We were making overlay pieces, where we put two pictures together," said Duggan. 
Creating art and taking photos has been beneficial when it comes to expressing emotions
"It has helped me in the past [to] express how I am feeling and sometimes get away from those feelings," said Duggan.
Creating art has been beneficial when it comes to expressing emotions. 
"My objective when I create art is to create something that represents my emotions," Burgan said. "My favorite medium is actually sewing. I think it's just a great way to express your emotion and let yourself create [something] specialized to your body and that can be really affirming."
A lot of artists seek to share their work. Competitions are a helpful resource to get your name and art out there, as well to earn recognition for the hard work you've put into your pieces.
Duggan believes that while everyone should submit to the contest, just to try their luck, they should also be aware of the submission fee. 
"My parents didn't care about the fee," Duggan said. "But I bet some do."
Scholastic charges $7 per piece and $25 per senior portfolio. 
Mckinney recommends submitting if you can. 
"Art is sometimes not as fulfilling as it can be because a lot of people don't understand the work you put into it," Mckinney said. "Entering into competitions like Scholastic [and winning] really shows the artist that they are meaningful, that they are talented, [and] their work means something not just to them but to other people and these prestigious judges."