Athlete of the Week – Marya Hudgins (1/24)
Photos Courtesy of: Jacob Lapidow and Dibo Elango
Marya Hudgins is a shooting guard for the Girls' basketball team.  Marya is in 12th grade and plans to play in college for Santa Clara University next year. She has played for the varsity team since her Sophomore year. This season, she was nominated for the 2022 McDonalds All-American Game along with teammate Lauren Betts.
Q: What is your dream car?
A: Dream car? I have a Ford Escape right now and honestly, I would say that 
Q: How tall are you?
A: I'm 6 foot.
Q: Do your friends and family support your dreams of pursuing basketball?
A: Yes they all support me and a lot of my friends play basketball so that's how I made a lot of my relationships and both my parents played basketball so yeah, they're very supportive.
Q: How long have you been playing basketball?
A: I started playing seriously around 4th grade, but my dad had me play at a church league when I was in 1st or 2nd grade. But I was also a dancer, so I decided to quit Dance and focus on basketball.
Q: What made you want to play basketball?
A: I would probably say my Dad. My Dad played professionally overseas. So I guess seeing his experience and how he played inspired me to play. 
Q: How do you think the team is doing so far? 
A: Our record would say otherwise, but I'm really proud of us. We played a national schedule, we have one of the hardest schedules in the country. So I'm honestly really proud of us and how it's showing in games. 
Q: Does the team stand out from the rest in any way?
A: I have been here since I was a sophomore, and I would say this team has the best chemistry. I think this is the first year where everyone has gotten along, so I definitely think our team chemistry stands out. 
Q: What was the nastiest shot you ever hit?
A: I would say my freshman year when I was living in Georgia. We were playing in the State Championship, and I hit a buzzer beater 3 coming out of a screen during the 4th quarter to put us up like ten. 
Q: How do you manage your school and your sports? 
A: It's definitely really hard. Especially with all the practicing we do, and with all the school work I've had lately. My mom is big in academics so that's nice.
Q: Does being a senior affect how much power you have in decisions on the court or when it comes to team decisions?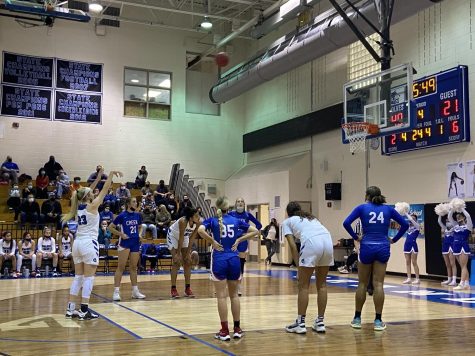 A: It does for sure. As one of our team captains, I have a lot of say in reading what the other team is doing and communicating that with coach because he's not on the court. And kinda just keeping them up to date on what's happening and little things like that.
Q: What are your plans after college?
A: After college, I would love to play overseas. Anywhere would be awesome. Then I also want to pursue sports broadcasting like working for the Pac-12 Network would be a dream of mine.