How High Can You Fly: Aviation in CCIC
Photos Courtesy of: Jalen Silas 
Planes have become a huge part of our lives. They get us to Christmas Day with the grandparents and to family vacations over the summer. 
Aviation has made us reimagine the heights we can reach. 
"Being a pilot isn't just getting into the plane, pushing buttons, and flying. It's a lot more complicated than that," said past CCIC student Jalen Silas.
As simple as it may seem, safety and preparedness are CCIC's main focus with their aviation students.
"The syllabus is going to include ample amount of pilot responsibilities that the students will be challenged with everyday, with the help of the sims that are in the classroom which allow them to digitally control the airplane all on their own which is super cool," said senior Brookyln Arnold. 
Aviation isn't just a small line of work. There are multiple jobs for anyone interested.
"Things like baggage handling, aircraft fueling, or catering. This would let someone see the industry for what it is, said aviation teacher, Dave Willaimson. "There are engineering jobs, crew scheduling, technical writing, and so on. I will always recommend aircraft maintenance because of its importance to the field."
Although people may think flying planes is easy, the job can be rather demanding. 
 "No. The job is not easy," said Willaimson. "It takes a willingness to learn everyday and an exceptional attention to detail."
Despite the hardships people trying to pursue this career will face, there are still individuals who really put in the work to succeed.
"My goal airline to fly for is United Airlines. I always loved flying with United airlines and they haven't failed me when it comes to their services," said Silas. "They're my favorite airline and I fly with them every chance I get. The dream is to be a corporate pilot, to fly the cool and faster Gulfstream or the Bombardier Global."
You can take control of your dreams, all it takes is preparation and dedication to yourself and to the dream at hand.
"If I did end up becoming an airplane pilot I would love to fly for Frontier because my dad and aunt are both captains at Frontier so I would love to have the opportunity to fly with them as an F.O.(First Officer)," said Arnold.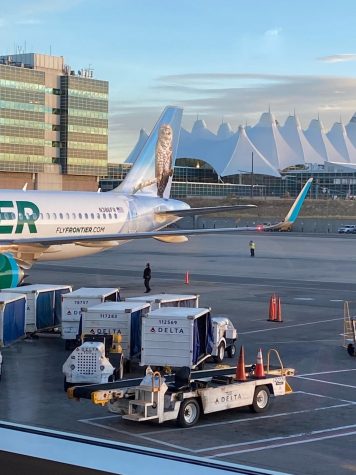 No matter the expenses or hardships. Pushing through and having a plan about your future should fuel your drive for greatness. 
"Even if it's something they're slightly interested in, I guarantee that it's worth it," said Silas.