A Season to Remember: 2021 Volleyball Recap
Photos Courtesy of: Lael Temple
Last weekend, Girls' volleyball placed as state-runners up after losing to Cherry Creek in the championship game. Although they did not secure a state title, the team has accomplished nothing short of an amazing season, going 24-5.
"I was really proud of the team. I mean obviously everyone wants to win, but I think we had an amazing season and left everything out on that court," said senior Emma Tucker. "It was a bit of a bummer just because we had beaten Creek earlier in the season, but we played amazing the whole state tournament and I was just really proud of how we finished as a team."
Sophomore Brenna Kelly also shared her thoughts as well. 
"Placing as runner-up this season was such an amazing feeling and being able to play in the state finals again is going to be something to remember," said Kelly. Although the outcome wasn't our initial goal, we are all still proud of everyone and how we played this season."
Being state-runner up is nothing new to the team with them losing to Rampart last season in the state championship as well.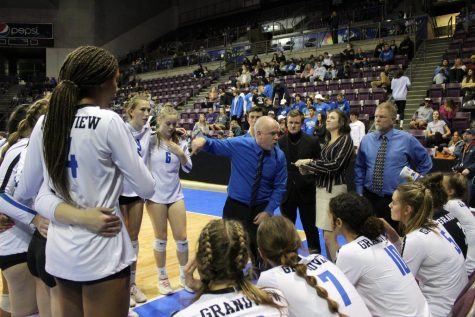 "We were state runner-ups last year too, so that stung a little bit," said junior Haley Glunz. "But it's more motivation to go back next year."
Senior Isabel Bennett also talked about almost winning state as well.
"Of course I was a little disappointed [for not winning the state title], but I'm proud of my team for giving it their all," said Bennett. "Looking back on it, not many people can say they made it to second place at state twice, so that's pretty awesome."
"I know we placed as state runner up last year, but even getting to state and the championship is just crazy because I can't believe we made it that far," said junior Lindsey Watt. " I was just really proud of us for that."
But being a part of a team isn't just about winning the games, it's also about the friends that have turned into a family through this sport.
"I think we were a really closer team, especially this year, than even last year. We just bonded a lot, had a lot of camps and stuff over summer that helped us; we all hung out all the time, we'll get food together after practice, and we also have a weights class together," said Tucker. "I think that's helped a lot because we see each other off the volleyball court. I love them all and they're just great people."
Bennett and Glunz also talked about how the team bonded with each other this season.
"We have a really strong relationship," said Bennett. "We get along really well and we love hanging out with each other."
"Our volleyball team is really close," said Glunz. "I think of them all as my sisters."
Good team chemistry is only part of their success. School spirit has had a huge impact on the results of the girls' games.
"School spirit has brought so much motivation and energy to our games," said Kelly. "Playing in front of a crowd and seeing everyone cheering is super exciting and makes high school volleyball very special."
"Last year obviously because of COVID, we never had any crowds. It was only parents, and so none of us had really played in front of a crowd before," said Tucker. "It was just really great to see school spirit and to see people start showing up for games. It just affects how you play on the court, it affects the energy levels, which can in turn affect your level of play."
"School spirit has been a big factor in us doing great this year because the fans especially are the reason we got so far and a reason we had so much motivation," said Watt. "Even when we are not having our best games the fans just cheering us on just definitely kept our energy up and kept us excited and really happy."
It's the end of the volleyball season but for the seniors, this is the end of their high school volleyball career.
"I think everything was just bitter-sweet [this season]," said Tucker. I think the underclassman did a really amazing job of playing for the seniors and trying to push to help to make sure that the seniors could continue the season."
"Definitely bitter-sweet moments, but it was fun."