"I Believe": Boys Soccer Wins First Ever State Title
September 14th, 2021. 
That was the day boys soccer dropped to 4-4 following a disappointing 3-2 loss to Highlands Ranch as they failed to claw their way back from a 3-0 deficit. Despite the heartbreaking defeat, the team still had hope to make this season a memorable one.
"We played our butts off," said head coach Brian Wood. "Almost came back and tied the game and didn't quite do it, but [it] gave us that [feeling] that we can do this."
Players shared their memories of this part of the season as well.
"We came in and thought we were gonna beat em', but we found ourselves down 3-0 at halftime," said senior Conrad Casebolt.
"We go into the locker room at halftime, and it's the low point of our season, but our coach, he didn't yell at us, but he said, "I want every single one of you to believe we're gonna turn this season around", and so we went around the locker room and every single one of us said to each other, "I believe"."
Senior Luke Williams also talked about this experience.
"Coach Wood sat us down, and he said, "Look guys, we're gonna have to win the next 12 games in a row to be state champs," said Williams. "He had each one of us say that we believed, and we all went around the locker room and said, "I believe".
Following that game, the Wolves played rivals Cherokee Trail in a very tight 2-1 win. From then on, the team never looked back from that loss.
"CT was talking, they were running their mouths saying how good they were, so we really wanted to beat them," said senior captain Ben Beckman.
"We just took off from there and never looked back."
Boys soccer went on a tear throughout the rest of the season, going on an impressive 13-game unbeaten streak while winning 12 of those games.
"We had to treat every game from now on like it's a playoff game because we were going into league play after that, and the Centennial League's one of the hardest leagues in the entire state so we really had to look inward and to reflect, put our mindset right and really focus," said senior captain Charlie Lucero.
The league champs didn't stop there after the regular season as they went on to go all the way to the state championship at Weidner Field where they beat 17th seeded Cinderella Fossil Ridge 3-1 to win their first state title.
"It's unbelievable because my freshman year, we got to the final and we didn't close it out and this program's been so strong for so many years, and to be part of this huge step for Grandview, for boys soccer is unbelievable," said Williams, who scored the first goal in the final.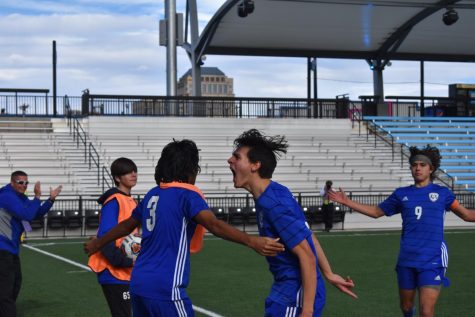 The Wolves had to play their best game against a team that beat the No. 1, 5 and 8 ranked team during their run to the final.
"We were really good at following the game plan, staying loose and not being too stressed about it," said Lucero.
The defense was notably dominant during their playoff run, collecting three clean sheets and only allowing just two goals throughout. 
"When we score, we are so good at holding leads…this defense is all-state I'm telling you," said Casebolt.
 "If we score first, I don't think there's a team in the state that can beat us."
After losing multiple finals in years past (2004, 2007, 2018), Mr. Wood finally gets his first state title.
"Feels fantastic, it's been a long time coming," said coach Wood. "It's always tough when you get here and you don't win but these guys knew they were gonna win the whole time."
Lucero, who also scored, shared his thoughts as well.
"Coach Wood's been here [many] times before and we finally got one for him." "We finally put our names in history man, first one ever."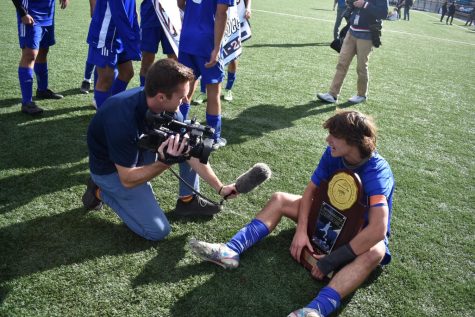 For the 11th seeded champs, hopefully this will be the start of a new era of dominance for the problem.
"To cement the legacy in this program, and to show how good Grandview soccer is and to finally get a boys [soccer] title is unbelievable," said Beckman.
"We're changing this program hopefully to win more [titles]."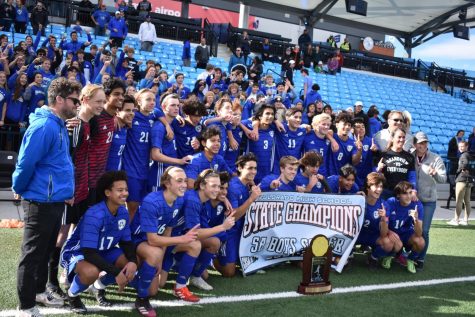 For highlights of the game, click here.