Tom Doherty, League Champion: Football Bounces Back With New Head Coach
Head coach in his first year helps Grandview win their first league championship since 2018.
Photos Courtesy of: Charlie Lucero, Grant Britain, Almas Maria Elayyan
2020 was a year to forget for the football program. In a shortened season, the Wolves finished with a mediocre 3-4 record, missing out on the postseason for the first time since 2004.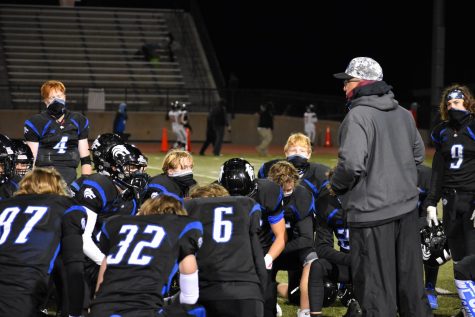 Following the end of the season, long-time head coach John Schultz stepped down from his position after 17 seasons, thus marking ta new era of Wolves football. Without a head coach, the team needed to bring in a guy that can spark energy into the position.
Tom Doherty was the guy.
Hired in March this year, Doherty had one main goal when he was given the job: To put the Wolves back on the map.
"My goal was for us to be relevant in the playoffs," said coach Doherty. "My sole focus was to get us right, to get us back to where Grandview can be and has been in the past, and to be relevant in the playoffs, and here we go, we'll find out how relevant we are here soon."
Before being the Wolves newest hiring, Doherty spent multiple years on Cherry Creek's coaching staff lead by head coach Dave Logan, being their defensive coordinator. Having experienced massive success during his tenure, his plan was to give his formal rivals that same winning mentality. 
"I was fortunate enough at Cherry Creek to be part of a really good program and to play in a lot of really big games and to win a few state titles, so I think every experience I've had there I've kind of absorbed and retained," said Doherty. 
"I use all of those years of experiences and the successes we had there to try to duplicate here at Grandview."
With the team winning the 5A Centennial League this season, boasting an 8-2 record, Doherty has been proud of the squad's success and improvement throughout regular season play.
"It feels good. I'm really proud of the kids….they've battled all season long and they reaped the benefits of putting in the hard work," Doherty said.
"I've seen a lot of progress. We started off the season against Pomona and we were lucky enough to win that game but we have improved drastically since then."
The defense, led by seniors Malique Singleton and Kahden Rullo, has been the highlight of the team, allowing the second most points allowed this season in the 5A League. Being a defensive-minded coach, Doherty was also pleased about the team's performance in that department as well.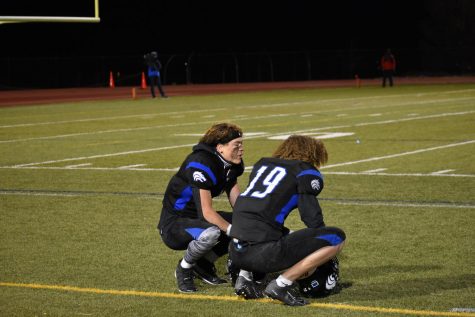 "You can see it from a physicality standpoint, you can see it from a confidence standpoint, so I've been [really] pleased with our improvement," said Doherty.
"My job is to put them in the best position to be successful and that's kind of my whole focus. This is a good group of kids and I care immensely about them, and they've been awesome to coach."
Despite the team's recent success, coach Doherty's not done yet with turning the program into one the school can be proud of, reminiscent of past state and league contending teams.
"They've had league championships and they've had great players who've gone on to college, so I'd like to think we can emulate that moving forward, and at the end I want it to be a program that the community is really proud of, and that the kids taste the success of hard work," said Doherty.
"I don't want to say we want to win this many league titles, or this many state championships, all of that stuff will come, but I do want us to be the Grandview of old with an uncapped limit of how good we can be."