Boys Basketball Advances To Sweet 16 With Win Over Hinkley
Boys basketball started off their postseason run with a 86-49 blowout win over the Hinkley Thunderbirds Saturday afternoon.
Senior Caleb Mcgill lead the team in scoring with 20 points along with eight rebounds. Senior Tanner Holtman was the only other player who scored in double figures, finishing with 18 points on 6/9 shooting from three.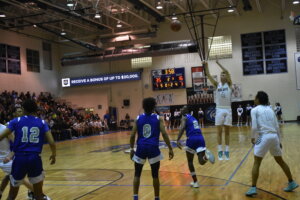 Despite finishing the regular season winning two of their final four games, the team cruised to a dominant win as they advanced to the Sweet 16.
"We prepared all week by working on the little things we need to clean up before our first postseason game," said junior Jacob Burr.
"The end of the season did affect us because we knew we had to win and get momentum in the playoffs," said Holtman.
The Wolves were on fire in the first half, leading 52-18 after the first half. Their impressive play was the result of great shooting and plenty of ball movement.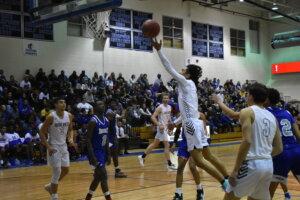 "The game plan wasn't necessarily to shoot threes but since everyone was making them we just kept shooting," said Holtman. 
The team cooled down in the second half, only scoring 34 points but it didn't matter in the end thanks to their solid defense. 
"There's always room to get better as a team," said Holtman. "Right now we need to work on closing out help side."
The boys take on Broomfield Wednesday (3/4) at Grandview at 7:00.