Kobe Bryant: Forever a Legend
Artwork by: Alivia Hill
Kobe Bryant: a basketball icon, whose recent tragedy had a very emotional effect on Grandview, was not only looked up to by the basketball community, but by all students who admired him for his ambition, perseverance, and determination. 
"Kobe just brought so much more to the world than basketball– he was an icon, he was an icon living like Jaden Smith would say," said JV basketball player Evan Johnson.
Due to Bryant's sudden death, many people realized the effect he had on society and other people. 
"Well when everybody got the notification, I don't think it really hit anybody instantly, but to see the words 'Kobe Bryant dead in helicopter crash', it was unreal," said varsity basketball player Jamel Hollins.
Not only did Kobe affect the basketball players, but he also affected students with no basketball history at all. 
"It was really sad and it made me really emotional because he showed me and all the people to fight for what you want," said sophomore Alexa Corona.
Kobe showed that if you worked hard enough, anyones' goal can be achieved, and though it may not be easy, giving up is never the answer. 
"His work ethics impacted me the most; I thought if I could work like him I could do anything," said JV basketball player Jonathan Broadus, also known as KB.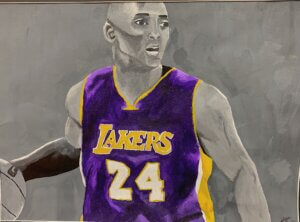 Though everyone watched Bryant play basketball through a tv screen, actually being able to say you have met him is something not many can say.
"I met him one time as a younger kid on my team. We got to talk to him with our team and he told all of us no matter what you do in life, if you give 100% all the time it'll be a hell of a lot easier," said Hollins. 
Gianna, Kobe's daughter, who also tragically passed in the crash had a dream of following in her father's footsteps and soon playing in the wNBA. This was particularly devastating as she could have been the only one out of his other four children carrying on his legacy. 
"While I was watching Gianna's highlights, I noticed she played a lot like her dad, and if she developed those skills at such a young age, we all would have expected her to carry on the legacy," said KB.
Though Kobe was known because of his basketball career, he sent a bigger message, that being a good person and caring for others can get you places, a kind heart has a much bigger meaning than money and fame, and that's why everyone looked up to him. 
"Kobe was definitely a motivational and caring person, I think that he was a role model and a leader but that makes the rest of us fans," said Hollins.
Though Kobe's death had left the world speechless, he left a mark on this world and will go down in history. He was recognized for his hard work and many aspire to be just like him. He showed that there is good in this world and brought happiness to people's faces.
"Kobe was one of the reasons why I work hard and continue playing competitively–he was one of the biggest inspirations to the basketball culture and he really cared for his community on and off the court," said Ramiro.