By Jada Cousin
The seniors were excited for senior night because of them getting their recognition from the four years they've spent in the swim program. They are also bummed due to the fact that they have to leave Grandview soon. The girls have been looking forward to this special night throughout their high school career.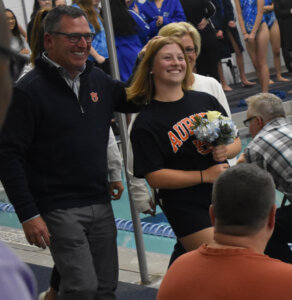 "I've seen all the senior girls go through it [senior night] and it's a recognition that this person has done it for four years and they deserve that recognition. It's just kind of passing it on and a little celebration as they go on to the next chapter of their life," said senior, Macy Brockamp.
Grandview swim means a lot to these girls, they have made good friends within the program and now the team is like family to them.
Story continues below advertisement
"I have made good friends and I wouldn't have found them anywhere else," Lasata Ranjitkar. "I have been on multiple teams and every team is different. This one is super special and you see them at school, after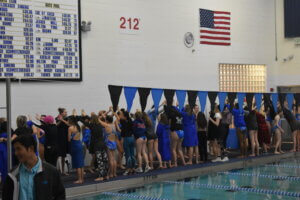 school, and before school."
Seeing another athlete in the halls is a different experience when the athletes see them after school as well.
"I love the friendships. You are with the girls all the time and we see each other in different ways you wouldn't see them if you just have a class with them so it's definitely unique," said Kenna Southerland. 
The girls started swimming because of many different things. Some began either for the enjoyment of swimming, or from their parents suggestions. Either way they ended up loving the sport.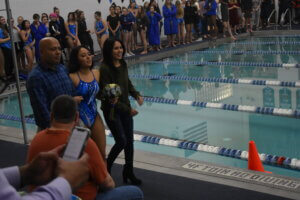 "I love the water, getting up in the morning, and getting a workout done first thing. That's the most important part of the day in that aspect, and it's a good way to set up the rest of the week and my day," said Southerland. 
"My parents told me if I didn't get into a sport they would put me into tennis, so the last sport I didn't try was swimming. I did it, and fell in love with it," said Brockamp. 
Throughout their four years in swimming the seniors have worked hard to positively impact themselves as well as others. 
"This year there was this girl on the team. She wasn't able to get to practice, so I've been her main mode of transportation," said Brockamp. "I have been able to get her to swim and get her to practice and watch her learn to love the sport." 
They have given some advice to the new swimmers for next year.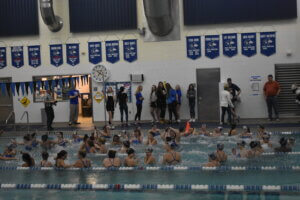 "Be present, because it goes away super fast. If you are not mentally present it just flies over your head," said Ranjitkar.
The future holds a lot for these seniors but Grandview swim will always be their family. They hope the best for the girls as they continue to swim next season.