The Hojo Doesn't Fall Far From the Tree
Pictures courtesy of the Hojonowski's
Grandview ball is dominated by the Hojnowski family.
The youngest child of the Hojonowski family is Anna. She is a freshman who started playing softball just over a year ago when her best friend's softball team needed a player. In the short time since then, she has progressed a long way as a player. This year, her freshman year, she made varsity softball. She plays outfield, shortstop, and first base; three critical positions.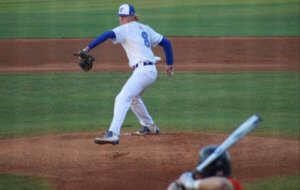 Her athleticism and knowledge of the sport isn't an anomaly. Her dad played basketball, baseball, hockey, and lacrosse. While her mom played softball and tennis. Luke and Josh Hojonwski both played varsity baseball and the family is commonly known as the "Hojos".
"Every time they played in the backyard, I would always catch for Josh (her older brother), and he was throwing 75 mph," said Anna Hojo.
Like most students, a lack of passion for academics is a problem. Softball shaped Anna's academic successes.
"It definitely encouraged me to go to school," said Anna.
The second member of the Hojo family is the senior Luke. He started playing baseball at a very young age.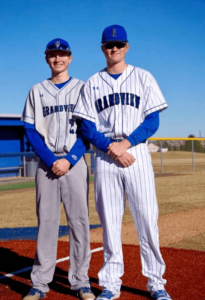 "I started playing when I was three years old; my dad told me I should start playing because he played when he was younger," said Luke.
The middle child Luke played on varsity when he was young. He was a swing player as a junior and a lock for varsity as a senior. With his undeniable talent, Luke believes his baseball playing days will end with the season. 
"I do not think I am good enough, and I want to focus on my grades. I think baseball and college is a big-time consumer, and I just want to focus on college," said Luke Hojo.  
He has never been limited on the field because of grades and he has a killer arm. He is a great addition to the team as he plays, third, pitcher and outfield. His skill level is not the only thing he brings to the table. He is also friendly and trustworthy.
"I have lots of friends on the team, and just being around them and playing it's just a win-win situation," said Luke. 
The oldest of the Hojo siblings goes to Northeastern Junior College in Sterling, Colorado. He played varsity baseball at Grandview, but lost his chance at a D1 school due to poor decisions off of the field. His dream was to always play baseball and had little to no influence from his parents. Not being able to play at a D1 school was truly disappointing because he has such a love for the game. 
"As I look back, I wish I had better communication with my teachers as well as kept a better GPA. Grades truly brought me down, and I lost my chance at D1 baseball because of my poor choices," said Josh.
If his dedication to the game translated into academics then he would be going to a different college. 
"Baseball is my life; I don't know where I'd be without the game I love," said Josh.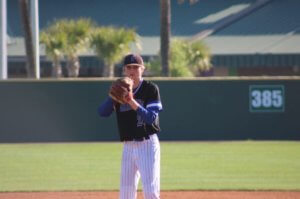 Because of his academics, he was unable to attend a great college, but he still believes that he has the mindset and skill level to play in the major leagues as a pitcher, or third basemen. He wants to play for his hometown team, the Colorado Rockies. 
All three of the Hojos came through Grandview and added an extreme amount of skill to all the teams they played on.
Josh left the school with a love for the game and a dream to play in the pros. While Luke and Anna will play their last games in Grandview jerseys.