Grandview Teachers Finding Their Zen
Picture this: it's 4:30 after school on a Thursday. Grandview seems to be nearly deserted besides some sports practicing in the gym and some thespians frantically preparing for the upcoming musical. But secretly, inside the dance studio, your favorite Grandview teachers, young and old, are shape-shifting across yoga mats between downward dog and reverse warrior.
Sound far-fetched? Wrong. This is reality.
Karen Ehrhard has been holding yoga classes for teachers at Grandview for two years now.
"I got certified about three years ago and I've had three kids go through this school, and so my youngest was still here and I was friends with the PE coordinator, Mary Danielson, and she asked me if I could start teaching for the teachers and so we just met in her room and pushed the desks away," said Ehrhard.
Ceramics Teacher Kelly Smith joined Teacher Yoga to help leave her mentally and physically feeling better.
"It definitely is a way to clear your mind and think positively about something, it gives you a chance to kind of go to a good place. I just think we all need this and for some it's yoga, for others it's a sport," said Smith.
Teachers bonding over yoga really shows yoga to be a great thing.
"You know the word yoga itself it comes from this root word yuj and it's a sanskrit word and it means to connect or unite," said Ehrhard.
Everyone should build connections and have fun after a long stressful day at school.
"Teachers need to have friendships and do things outside of work and so it's just another way to get to know each other and have a little bit of fun," said Smith.
Yoga can really relieve you and put your head in a good place. 
"[You're] not worried about what happened in the past and you're not anxious about what's happening in the future but your sort of just right here right now," said Ehrhard.
Yoga can feel different every time you do it, in the way that a golf game can vary depending on the day.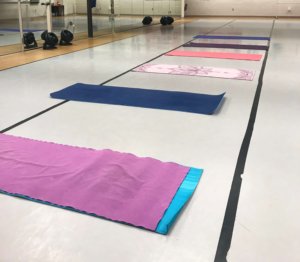 "I think that yoga is different every time you come to the mat so it depends on what's happening in your body it depends on what's happening in your mind…[but] I have been doing yoga since I was 16 like you know there's just days I think it becomes more familiar," said Ehrhard.
While yoga is great for your body and can help with recovery, it can also be a fun challenge.
"It's challenging because you're also holding poses that are not standing poses or they're  one-legged poses or you're leaning out…," said Smith. "I mean that's hard on different parts of your body and you do have to have core to be able to do those movements well."
With the clear benefits of yoga on teachers, it is worth wondering if students should get the same opportunities at Grandview. 
"Maybe I could use some relief in my life because I'm pretty stressed out but you know, I don't have time," said freshman Sierra Jackson.
Grandview has had some sports or classes in the past that have taught yoga but it has yet to be expanded for all students. 
"At Grandview I have taught the lacrosse team and have had one class or maybe two with the cross-country team so I'm still trying to do that since I love teaching yoga to youth, but I've also taught in the personal fitness classes here for all 3 years," said Ehrhard.
Erhard thinks that there should be a class offering yoga since it is a great activity for students.
"I would say that my hope is that every school starts offering yoga as an offering in their PE  environment but also like even in health class," said Erhhard.
Some students agree that yoga should be implemented at Grandview. 
"Yeah, especially since there is a lot of stress on the students these days," said freshman Bhavana Chauhan.
Even if yoga is not available to students directly at Grandview or teachers do not show up to the Teacher Yoga, Ehrhard encourages everyone to pursue the discipline and if you haven't been to a class, just go and try it out.
"Just embrace it embrace the awkwardness embrace the not knowing all of that and what you'll soon find is that it makes sense," said Ehrhard.