Some Wish for It, We Work for It
Grandview Football is returning to the playoffs. For the Wolves, the postseason is nothing new: They consistently make deep playoff runs. This is their 17th playoff appearance since 2001. 
Excellence is the expectation. 
This season has been more of the same. The team won eight of their ten games this season to clinch a bye week and the number seven seed in the state playoffs. 
Despite a strong season, the team is looking to bounce back after a disappointing 44-21 loss to Cherry Creek on the first of November.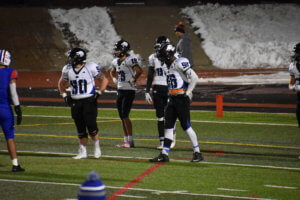 "We just didn't come out with the same fire they did," said wide receiver Evan Johnson.
The team is going to need to come out with fire on November 15 because the Wolves are matched up against Eaglecrest. The Raptors held the Wolves to only 14 points in their last matchup, though Grandview still narrowly won the game. 
In last year's playoffs, Grandview edged out Eaglecrest in the quarter-finals. Unlike that matchup, the Wolves are the higher seed this year.
"I feel like if we just do our jobs, do what we know we can do, I feel like we have a great chance," said free safety, Malique Singleton.
Singleton has posted 55 total tackles this season as a part of an elite Grandview defensive unit. This defense has only allowed an impressive 15.1 points per game to opponents this season. 
The main focus is to keep the defense on the sidelines for as long as possible, so they have time to rest in between drives.
"I think our defense is pretty strong, our offense just needs to be more productive so our defense doesn't have to be on the field for so long," said Evan Johnson.
Now that the pressure is on, there's no question that Friday's game is going to be a battle, start to finish. With big-time players on both sides, it will come down to which team operates better as a unit out on the field. 
"As a team, we need to be able to stay on the same page and communicate and just play the game, a full 48 minutes," said tight end, Sonny Thompkins. 
Grandview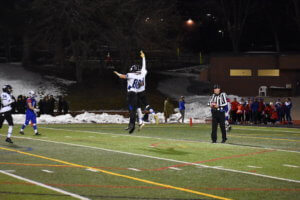 may not be ranked as high they were last year, but that's the beauty of the playoffs – it doesn't matter what you've done, it matters what you're going to do. 
"Everybody be excited, come out and support us," said Singleton. "I really do believe that if we do what we do… we can win."