The Ins and Outs of Post Grad
By Kira Howells
Applying to colleges is a very stressful process and many seniors are lost on how to start, or are just lost in the entire process.
"I have no idea how to apply or start, or where, and absolutely no idea about scholarships. I just feel behind." said senior, Holly Hyatt.
This feeling of being lost and not knowing where to start is a pretty common feeling among the class of 2020.
Balancing good grades and being a well rounded student is hard enough as is, and applying to colleges can make the fall a very stressful time for students. However, Grandview has a center specifically for this issue to help students- especially seniors, called the Post Grad Center.
"[The Post Grad center has] SAT and ACT…booklets that kids can use for practice tests. We've got a few scholarship books. We have a post grad calendar that they can pick up for all the dates. We also have the transcript request forms" said Mrs. Storgaard, who runs the Post Grad Center.
Post Grad is a very important and helpful resource center available to all students at Grandview. It is most important for seniors who plan on going to some kind of University or schooling after high school.
"It's pretty useful because you have to go through me to send a transcript, so if you're going to college you will for sure visit this center," said Mrs. Storgaard.
Sending transcripts is a pretty easy process for seniors. All the student must do is to put the University that they are applying to into Naviance and go down to the Post Grad Center.
Once in Post Grad, the students must fill out a "Transcript Request Form" with a five dollar fee, and turn it into Mrs. Storgaard. She will take care of sending the official transcript to the college, as part of the whole student application.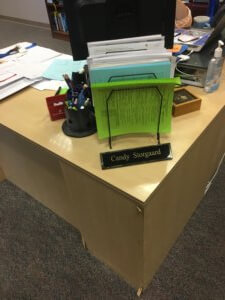 Not only does Post Grad have important materials and resources for students to help them with post grad plans, but it also is the place that colleges will come to meet students who are interested in going to that specific college.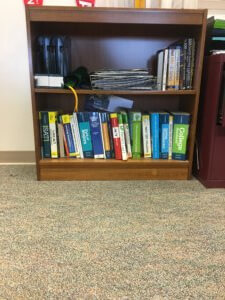 "College visits are important! I wish kids would come either as a sophomore or junior because colleges keep track of if you make a visit, send an email or make a phone call. If you're really passionate about school and really want to get in, meet that rep because they keep track. I would love the kids to come down and utilize this," said Mrs. Storgaard.
College visits are free, and only require the students to sign up on Naviance. To do this, go into Naviance to find the schedule for college visits, click the 'sign up' button, and tell your teachers who will then excuse you from class to go and talk to the college reps.
Just by going down to Post Grad and asking questions you can learn a lot about the college process. For example, students that apply to a public school in Colorado such as CSU or CU Boulder get a waived application fee on October 15th. Also, by going down into the center, students can find out if their college even needs an official transcript.
Students can also find out other important information such as details with FAFSA. For example, October 1st is an important date for FAFSA applications because there are more scholarships available for students when their application is turned in earlier.
A last example would be a student can come down if they are struggling with any part of the college application process, such as teacher recommendations.
"Come and visit or ask questions. Just come ask questions, if you don't know or can't remember just come and ask me so you can feel more comfortable about the college application process," said Mrs. Storgaard.
Many students may feel lost and stressed out about the college application process, which is why Mrs. Storgaard and the Post Grad Center are here to help alleviate some of the stress. Post Grad is a very vital resource that many seniors do not take advantage of, but definitely should during the application process.
"Yeah, applications would be a lot less stressful if I knew what I was doing," said Hyatt.