Lacrosse: Has The Boys vs Girls Mascot Rivalry Gone Too Far?
by Kenzie Wager
Pictures courtesy of  Taylor Harr, Cade Bruckman and Dani Armitage
Monday's Predators Cup seemed to be a high point for the Grandview Lacrosse program. The girls team won 14-11, against rival Cherokee Trail, and the boys team added to their undefeated league record by topping the Cougars 15-7. Even though both teams won, Monday night was a huge loss to the Grandview Boys Lacrosse community and players. Wilburr the Pineapple, the Boys team's mascot, was kidnapped by none other than the Grandview Girls Lacrosse team.
For those of you who don't know the history of Wilburr and Cecilia, let me break it down.
According to Wilburr's twitter account, @OneP1neapple, "the citrus that keeps Grandview lacrosse going" has been an active member of the team since April of 2015. Cecilia, @cece_succulent on twitter, has been "the SUPER succulent supporter" of Grandview Girls Lacrosse since March of 2018. For a fairly new account, Cecilia isn't doing bad with 62 followers. Wilburr on the other hand, has 185.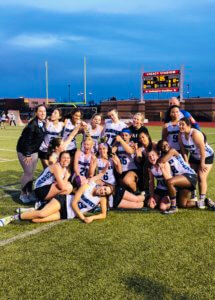 This mascot rivalry has been intense since the birth of Cecilia. Last year, on April 26th, Cecilia went through a traumatizing experience when the boys team tried, and failed, to abduct her.
Then, on Monday, Grandview fans watched as co-captain Mandy Brockamp crept onto the field and snached Wilburr from the top of a Gatorade jug.
Christi Weyman, Anna Liberatore, and Reese Vensor, the Boys Lacrosse managers, were all key eyewitnesses to the snatch.
"At halftime, me and the managers went up [to the parking lot], and we saw the Girls Lacrosse players running with the pineapple and screaming," said Weyman.
"He was on top of the water jug and they all ran down [to the field] and he was gone," said Vensor.
The managers then had to figure out how to tell the boys.
"I had to make it seem like we were going to get him back, but they were really sad," said Vensor.
Evan Humphrey was one of the first players to find out.
"Coming back from the locker room at halftime, Anna [Liberatore] pulled me aside and told me they took Wilburr," said Humphrey. "We were just absolutely shocked."
The players who knew about Wilburr didn't want to put a damper on the game, so the rest of the team found out after the win.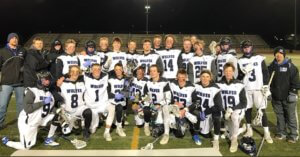 "I found out actually right after the game in the locker room," said senior Nick Eisenbarth. "I'm pretty sure it was Dani's idea, and Cecilia made sure it was executed."
Some of the boys are worried for Wilburr's safety. Evan Humphrey specifically got emotional when talking about their good luck charm.
"I just feel really bad for him, because you know they aren't taking great care of him," said Humphrey. "I just want him to come home."
Wilburr's location is unknown which increases the anxiety the boys have about the whole situation.
"I hope he is safe out there," said junior Cade Bruckman.
The kidnappers themselves couldn't share much, but did say it was a spur of the moment decision to abduct the pineapple. They now are focused on the safety of their own mascot, Cecilia.
"Cecilia is behind everything. She is the heart and soul of the team," said Mandy Brockamp. "She is protected. Some FBI stuff going down. Unlike the boys, we protect our family."
We reached out to Cecilia, and a representative spoke for her.
"I decided we first of all had to get [the boys] back for that traumatic experience I had to undergo and bounce back from," said the "Cece". "We also had to make them understand what it was like for [the girls], so it was only fair."
Cecilia denied all romantic rumors towards her rival.
"I am so much better than him," said Cecilia.
Some of the boys team have hinted to revenge.
"Cecilia is going to pay for it," said sophomore Noah Schmidt.
Others were more calm and proposed less aggressive ways of retrieving their beloved pineapple.
"For the Girls Lacrosse team, I hope he is giving you all some luck because you need it," said Jake Kartz. "I propose a stick swap game for Wilburr. We will do whatever it takes."
While the Predators Cup was a huge victory, the boys didn't feel like it was appropriate to celebrate.
"It felt kind of hollow honestly. It was a real shame Wilburr wasn't there to experience the glory of winning the Predators Cup," said Humphrey. "It feels like the heart of the team has been taken away from us."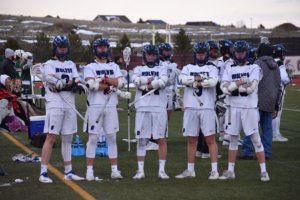 For manager Anna Liberatore, she just wants unity.
"One pack baby," said Liberatore.
Wilburr, if you are reading this, our thoughts are with you. Here are some messages from your team.
"Wilburr we are coming for you buddy. We love you. Keep pushin." -Nick Eisenbarth

"Stay strong buddy." -Anna Liberatore
"We are comin' for ya." -Jake Kartz
"Wilburr we miss you sweetie." -Reese Vensor
"Wilburr, I really hope you come home soon. I love you." -Evan Humphrey
And the Girl's Team has a short message for the Boys.
"Good luck."