The State of Music
You see them at school. You see them in the hallways, in classes, and in the library. But what you don't know is how hard they've worked to get to this point. Late nights, overworked hands. Practicing over and over and over again, until they get that one note right.
Last month, on March 5th, Grandview's Symphonic and Wind Ensemble bands performed at regionals. Wind Ensemble successfully qualified for state–one of the biggest band festivals of the year–out of myriads of other schools that attended.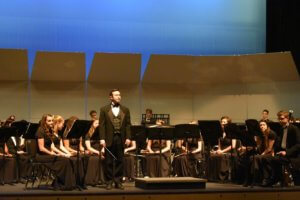 The scores are based off of a five point scale, with one being the best. Wind Ensemble impressively scored all ones on their top-notch performance.
"Each thing that you do well, you get a one in that category, and then for if you do something less well, you get a two in that category," said senior Katelyn Lyn-Kew. "So they just add up the points in the end, and if you're within a range from so many points to so many points, that classifies as a one and the next range is twos and so on."
While I and many others were thoroughly impressed by their performance, band students, like many others of us, are, as senior Max Nielson puts it, their "worst critics".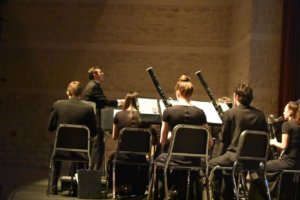 "It was a pretty average one. It wasn't super great, but it wasn't super horrible; it was just kind somewhere in the middle," said Lyn-Kew.
Sophomore Amruta Divekar justifies why the band students have been hard on themselves.
"We're just comparing everything to CMEA (Colorado Music Educators Association). That was the last big thing that we had, and we did much better in that than we did in anything else this year," Divekar said.
Regardless of how the performers felt about regionals, the judges were clearly impressed by Grandview, and Wind Ensemble has been hard at work preparing for state, which is on Monday, April 15th at CSU.
Senior Brandon Graese claims that in the past, Grandview has earned "a two at state the past two years and a one the year before that."
Luckily, the band does not have to stray too much from their normal practice routine, when practicing for state.
"At this point, it's the same process of learning new songs just as we did for regionals. It's learning new songs, practicing them everyday, practicing different parts of them everyday and just trying to get them to the best level that we can, and in the amount of time that we have," said Lyn-Kew.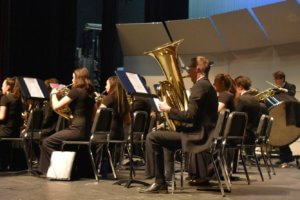 However, band students are starting to feel pressure, as the time from state quickly dwindles down.
"[I am] nervous. I don't know, we just don't have a lot of time to learn these songs, but as long as everyone works really hard, we should be okay," said Divekar.
Graese echoes this sentiment, and believes preparing for state is a big team effort.
"The atmosphere in class has been stressful, but in a good way. Most of the time, when we get into band class, we relax a bit and just enjoy what we are doing. State has pushed us to be super focused in class, almost more so than you would be in any other class."
"To put it into perspective, in baseball, if you can hit a ball 33% of the time, that's amazing. In band, if you play the right notes 33% of the time, the song sounds horrendous. Now multiply that factor for each of the 50 people in the band…not a great outcome," said Graese.
For those leaving Grandview next year, it's even more difficult to concentrate on doing well at state.
"I think as a senior, it's going to be hard to stay focused and see the end goal and not get distracted by, 'oh we've had spring break, now it's time to let the senioritis in'. We still have to really keep pushing after spring break," Lyn-Kew said.
Even so, everyone is putting in the work to make sure they are ready for the big day on April 15th.
"Personally, I've been investing a lot of time during my off periods coming in and making sure that I will be able to play the music at the highest level possible…with all of the effort I've put in over these past four years, I'm super excited and as prepared as I can be to make this performance the best one yet," said Graese.
Please make sure to wish Wind Ensemble luck at their state on Monday, April 15th at CSU!