What's Next
By Kenzie Wager
Photos courtesy of Lizzy Leung

The atmosphere of the Rangeview versus Grandview basketball game was tense. The student section became silent, as the momentum Rangeview built was too hard to match. On Saturday, March 2nd, the Grandview boys basketball team faced their last game of the season against the Rangeview Raiders, losing 39-49.
For the seniors on the team, this would be their last game in a Grandview uniform, and their last game in their high school career. Regardless of the game results, Grandview ended their season ranked fifth in the state, validating their hard work and resilient effort all season.
Devin Williams, Darrian Leu-pierre, Levi Dombro, Tyler Unger, Kenneth Norman, Davon Walker, Dayne Prim. Seven players, and seven key team members that will be missed by Grandview's basketball program and student body.
Prim, Dombro, and Unger have spent three years on the Varsity roster. Each of them has been to the state tournament at the Denver Coliseum and each has earned a state championship ring. For Unger, those three years went by in the blink of an eye.
"Enjoy every moment with your team and have fun because it goes by really fast," said Unger.
This last season has been bittersweet for the boys because they will be leaving a lot behind as they go to college and start their adult lives out of high school.
"I'm going to miss playing with my teammates… they became family to me. They are my brothers," said Devin Williams. "I'll also miss the atmosphere the student section and parents bring."
The players were not the only ones who felt their time at Grandview went fast, the parents and fans felt it too.
"Watching Tyler step out on the court for the last time, we didn't even realize it would be the last time until it was over…it was something that hit all of us hard" said Tyler's mom, Cindy Unger.
For the boys that went to state, that win was their most memorable experience in a wolves uniform.
"Junior year was definitely most memorable," said senior Kenneth Norman. "The whole state experience is unreal and going through that made me appreciate the game more."
As skills develop through practice, so do leadership and motivation. What makes a player great is their determination to be great.
"Grandview just made me an all around better player and made me more coachable," said Unger. "I'm going to try and take everything I've learned [at Grandview] to college and try to improve even more."
While the Wolves were unable to pull out a state title this year, they went 19-7 and were knocked out in tournament play by the current state champion, Rangeview: another successful program in Aurora.
"We battled a lot of injuries and setbacks all season, but I was proud to be a part of the journey with those guys and I wouldn't have wanted to do it with anyone else," said Davon Walker, senior guard for Grandview.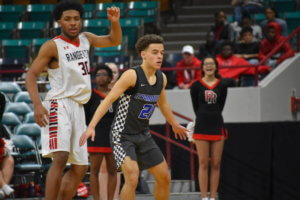 Looking into the future, the senior boys advise players to cherish every moment because it goes by really quick.
"Don't take for granted being part of the program, and soak up all the coaches have to offer you," said Walker.
Levi Dombro comments on how hard it is to understand how time flies until senior year.
"[Take advantage of] every minute, because it goes by in a flash. You won't truly understand that until you're in my shoes, but make sure to enjoy it," said Dombro.