The Will of the Wolf
Pictures courtesy of Brice Hartzheim
The cards were against him and it was looking like the light at the end of the tunnel was slowly fading, but like a moth drawn to even the slightest glow, Brice Hartzheim was drawn to the slightest sliver of hope.

In January of 2019, Grandview High School senior Brice Hartzheim faced the tallest hurdle in his wrestling career. In the third period of a wrestling match, Hartzheim's opponent had his legs in a hold.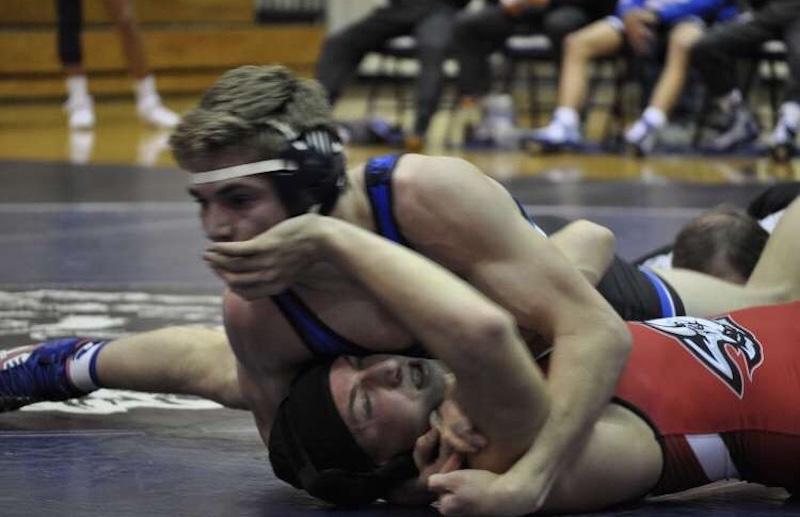 "I turned to him and I heard a pop," Hartzheim said. "I screamed and fell to the ground."

This worrying accident didn't seem to concern the wrestler as he brushed it off and finished the match. In the back of his mind, however, he knew that something was off. After a few days of strenuous dueling at practice, he finally decided that something was wrong. A continuous pain in his knee made him fear the worst. An MRI confirmed Hartzheim's nightmare; he had torn his ACL.

"The first thing that came to my mind was that my wrestling career was over. Everything I'd worked so hard for just down the drain- any thoughts of competing in college were over."

A few condolences from his closest friends left him more depressed than before since he realized that this injury could prevent him from ever wrestling again.

Deep down, the flame that once burned so brightly was now down to a few embers, but even the smallest spark can ignite the largest flame. This was exactly the case with Hartzheim. He knew he couldn't just give up on everything he worked so hard for, even if he had an injury that many would consider to be career ending.

A small pep talk, again from his closest friends, pumped him up and gave him the energy he needed to keep going. The question remained for the wrestler: how could he heal enough in one month to compete in the state tournament?

"The therapy sucked at first- I really thought that there was no way I would be in good enough shape to compete. And the tournament was in a little over a month so my hopes were not high," Hartzheim said.

Nevertheless, the hope that resided in him was enough to keep him going.

Fast forward a month and countless therapy sessions later, he felt as if he was ready to compete. Of course, the pain was still there, but this still didn't deter Brice from competing. The regional tournament began on the 9th of February.

Hartzheim knew he was the underdog going into the match, but remarkably, he was able to pin his way through regionals and make his way to the state tournament where he would compete with the cream of the crop. "I was nervous for sure, but I was gonna compete- I wasn't going to let this stop me."

Hartzheim knew there was no point in keeping the negative thoughts in his mind. "I just kinda cleared everything out of my mind and focused on my wrestling."

This technique of clearing his mind seemed to aid the wrestler considering he was able to pin his first opponent in the tournament. Unfortunately, the injury finally caught up to Hartzheim and he was unable to come up with a win in the next two matches.

"I mean, it's definitely not the outcome I hoped for but I'd like to see someone else wrestle with one ACL. If you take that into account, I'd say it wasn't half bad."

I just kinda cleared everything out of my mind and focused on my wrestling.
Brice Hartzheim won't soon be forgotten for his contributions to Grandview High School's wrestling team and although his career was cut sooner than he expected, he still managed to garner an impressive performance when it mattered the most. The future in this sport is unclear for Brice, but it's safe to say he is more than capable of accomplishing whatever he puts his mind to.