Setting Up For Success
Girls' volleyball stunned a region and looks to ride momentum into next year. 
Pictures by Dani Armitage
After starting the season 0-7, the Grandview varsity volleyball team beat the odds, ran through regionals, and went all the way to the state playoffs for the first time in three seasons.
"I think (the season) went so well from where we started to where we ended because (of) our perseverance," said Lauren Betts, a freshman player. "Nobody at this school thought that we would make it that far, so I think our school pushed us to work that hard."
The Grandview volleyball team did face adversity in the beginning of their season.
"We may of started off rough and people look at our record and say we didn't do so hot, but we knew it was because of injuries and we also had the toughest schedule in the state," said Coach Graham.
"Hopefully going to state will snowball into something bigger next year," said Smock,
Grandview competed against the top teams in the state.
"I think the season was a very successful season, because the girls played a very difficult schedule throughout the year," said Athletic Director West Smock.
Grandview volleyball had to face harsh competition such as Lewis Palmer who is ranked number one in the state for 4A.
"Probably Lewis Palmer [was the hardest competition] they just crushed us," said Graham. "They made us look like a middle school team."
But despite hard competition, Grandview volleyball were able to continue their season.
"They overcame a lot of adversity and continued to get better each week. That's what it's about," said Smock.
After beating the Cherokee Trail Cougars in 5 sets, the Wolves experienced a sudden boost of confidence and began to gain momentum going into regionals.
"We beat Cherokee Trail who was ranked number two," said Coach Graham. "That's when I knew we could play with anybody."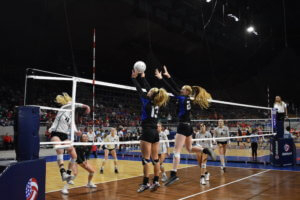 With the playoffs just around the corner, the team knew that in order to achieve their goal of going to state, they would need to work harder than they ever had before.
"We worked really hard in practice, we added some new coaches, we put in some new drills," said Betts.
After a successful end to the season, both players and coaches are already looking forward to the next one.
"I think it was a great way to end the season with a lot of underclassmen coming back," said Smock. "Hopefully going to state will snowball into something bigger next year."