Boys Soccer Defeats Cherokee Trail in Penalty Shootout
By: Lizzy Leung, Photos Courtesy of Danielle Armitage
On Saturday, November 3rd Grandview Wolves gathered into Legacy Stadium to compete against rival school, Cherokee Trail. After a close, neck to neck battle, Grandview emerged victorious after an intense round of Penalty Kicks.
Leading up to the game, the players were excited to show how far they've come throughout the years.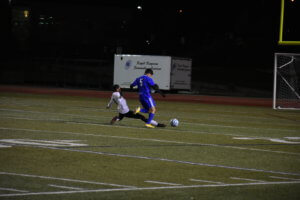 The team has led a 15-1-1 season, Grandview's best soccer season in the past nine years. Grandview has been to the State Contest, losing twice, once in 2007 and another in 2004, both against Smoky Hill. Grandview hasn't made it back since.
"I think this is the year, it's senior year, and there is no cooler feeling," said Senior Captain Peter Goldy.
For the first time, despite freezing temperatures, the stands were filled with the greatest amount of supporters the soccer team has seen in the whole season. The tension between the two teams was felt throughout the stadium.
Within the first three minutes, CT scored the first goal.
"That sparked something, Ray [Raymond Jackson] wanted it [to score], you could see that he wanted it." said Junior Teammate Cooper Rice.
Jackson scored right after CT, followed by Goldy to break the tie.
The first half ended 2-1.
Going into the second half, CT scored 3 consecutive goals.
"I was shocked, but I felt like we still had it [the game.] Of course, I'm not going to give up hope." said Jackson.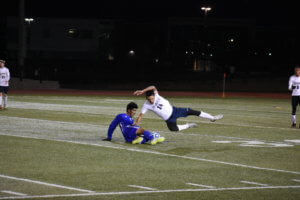 Luckily, Noe Ortiz pena was able to secure a goal, leaving the game 3-4.
Teammate Ivan Luna evened up the score, allowing Grandview once last chance to make it to semifinals in a penalty shootout.
A penalty shootout is when both teams are given five chances to score a penalty shot against the other team.
While Grandview lined up for their last chance to make it to semifinals, Senior Captain Ian Oltman called the shots.
"This is going to have to come down to you." Oltman said to Jackson.
Grandview Wolves lined up for their last shots.
"I started singing a song, as I walked up there, I didn't think." Jackson said.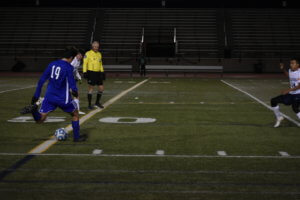 A large amount of the varsity soccer team is made up of seniors. Jackson's chance to score meant either the end of majority of the team's high school career or a chance to make it into the championship game.
Raymond Jackson scored the goal advancing the team to semifinals, and the crowd erupted with cheers. After his victorious run around the field, the team dog-piled at the 50 yard line.
The team is not done yet, and will face Boulder this Wednesday, November 7th, at EchoPark. Kick off is at 7pm, so make sure you head out there in time to support them on their road to state.
For a closer look at the 5A Boys Soccer State Tournament follow this link: https: //chsaanow.com/2018-10-22/5a-boys-soccer-state-tournament-bracket-2018/