The 57 Bus: Join the Conversation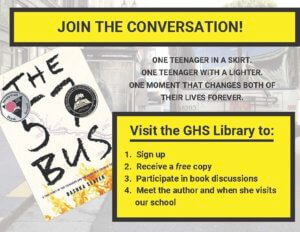 Important Dates:
Deadline to sign up is November 15th
Students will receive books by December 5th.
Author, Dashka Slater, will be visiting on January 10th
Please visit the Library for more details.
The 57 Bus Amazon Summary:
One teenager in a skirt.
One teenager with a lighter.
One moment that changes both of their lives forever.
If it weren't for the 57 bus, Sasha and Richard never would have met. Both were high school students from Oakland, California, one of the most diverse cities in the country, but they inhabited different worlds. Sasha, a white teen, lived in the middle-class foothills and attended a small private school. Richard, a black teen, lived in the crime-plagued flatlands and attended a large public one. Each day, their paths overlapped for a mere eight minutes. But one afternoon on the bus ride home from school, a single reckless act left Sasha severely burned, and Richard charged with two hate crimes and facing life imprisonment. The case garnered international attention, thrusting both teenagers into the spotlight.
Accolades:
A School Library Journal Best Books of 2017!
A Washington Post Best Book of 2017!
One of The New York City Public Library's Notable 50 Best Books for Teens!
A Kirkus Best Book of 2017
A Chicago Public Library's Best Book of 2017
Reviews:
"The text shifts from straightforward reporting to lyrical meditations, never veering into oversentimentality or simple platitudes. Readers are bound to come away with deep empathy for both Sasha and Richard. VERDICT Slater artfully unfolds a complex and layered tale about two teens whose lives intersect with painful consequences. This work will spark discussions about identity, community, and what it means to achieve justice." ―School Library Journal 
"With a journalist's eye for overlooked details, Slater does a masterful job debunking the myths of the hate-crime monster and the African-American thug, probing the line between adolescent stupidity and irredeemable depravity. Few readers will traverse this exploration of gender identity, adolescent crime, and penal racism without having a few assumptions challenged. An outstanding book that links the diversity of creed and the impact of impulsive actions to themes of tolerance and forgiveness." ―Kirkus
Check out The 57 Bus promo video below!