Grandview Loses by One Point in Homecoming Rivalry Game Against Eaglecrest
Grandview's Homecoming football game comes to a devastating end after losing a three touchdown lead late in the fourth quarter to rival school Eaglecrest. 
With just over four minutes left in the third quarter, Grandview's football team was up by three touchdowns over Eaglecrest. They started out strong scoring 28 points in the first half to the Raptor's 14.

"We were very enthusiastic about the way we played in the first half," said Senior Captain Hayden Isenhart. "There was a ton of energy and positivity throughout the locker room."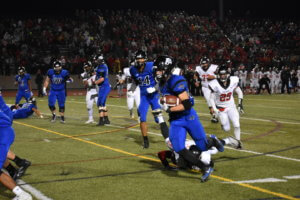 The third quarter was evenly matched with both teams scoring one touchdown, however, this would be Grandview's last, making the score 35-21 at the beginning of the fourth. Eaglecrest scored another touchdown in the 4th to close the lead down to 7 points.  
"They have a very good offense, and we knew they might get a play or two that led to some points," said Isenhart, "However, our approach to the game stayed the same."
Isenhart and his fellow Wolves seemed to have stopped the Raptors on a fourth down and inches which would give Grandview the ball back.
"We thought we had them in the backfield without a doubt," said Isenhart.
The chains were brought out onto the field, and the referees called it a first down for the Raptors with under a minute left.
We still have a great team and many games left to play. One loss doesn't change anything.
The next play left the Grandview sidelines and crowd in utter disbelief. Eaglecrest threw a long ball 50 yards into the endzone, cutting down the Wolves lead to one point.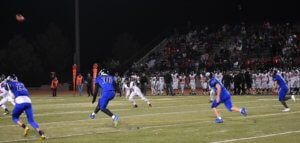 The Raptors went for two points with less than 30 seconds left, and converted, leaving Grandview one point behind, 35-36.
Senior Jordan Billingsley had a great kickoff return and a late hit penalty to bring out Grandview's offense to the Raptor's 36 yard line with 17 seconds left.
However, after a miscalculated throw by Sophomore quarterback Jacob Burr, Seyi Oladipo of Eaglecrest intercepted the pass, bringing Grandview's Homecoming game to a definitive close.
"Losing a game in that fashion to your rival school never feels good," Isenhart continued. "I also am very motivated. We still have a great team and many games left to play. One loss doesn't change anything."
The Wolves will have a solid week of practice leading up to their Friday game against an undefeated Cherokee Trail.