Galapagos: The Trip of a Lifetime
Every student in America at one point or another has had to sit in a classroom and listen to science teachers lecture about The Galapagos Islands; however, next year, Grandview students have the opportunity to actually travel to the islands and witness first-hand what they've learned.
Grandview is planning to go to the Galapagos Islands for the second time from
June 17 – June 25, 2019, and the organizer, biology teacher, Brian Criner, is looking for students to go.
"There were 23 students, 1 aunt, and 4 chaperones, so we brought 28 people last year. The same amount would be great; that was a good number," said Criner. "There's little boats that take us from island to island…if it goes much bigger, we'll need two boats, and so it was nice having us all in one boat."
It was the coolest thing that I've ever experienced.
In terms of students that are allowed to go, he said "last time I kind of limited it to kids at the end of their sophomore year, and junior year, and I don't see any reason not to open it up."
"Probably the only group that would be a little less compatible would be the kids that just graduated, because it will happen after graduation, so I'd like it to be students that will still be at Grandview," Criner said.
Sophomore, Grace Holmes, is one of the eager students already signed up to go.
She explains that after her science teacher introduced the trip and she went to the first meeting, she knew she had to go.
"My family, we don't really get to go out of the country a lot, and so the fact that it's like somewhere that I've never been, that was really exciting. And it's also on my bucket list," Holmes said.
Now-senior Sean Strawmatt, traveled to the Galapagos Islands last year (summer of 2017), and said that it did not disappoint.
"I thought the trip was amazing. It was the coolest thing that I've ever experienced, and I would recommend this trip to others because it is one of the most unique places on Earth and it's just an awesome adventure," Strawmatt said.
Mr. Criner and his students' favorite memories from last year's trip were experiences that you can't find anywhere else.
"The first part of the trip we actually stopped at a tortoise reserve. And this tortoise reserve, it's a protected reserve for Galapagos Tortoises. So they were all over the place. We ate lunch there, and we walked out, and we could actually see those tortoises, and they were 3, 4, 500 pound tortoises, so that was kind of the first cool Galapagos thing we did."
That same day, Mr. Criner and his students experienced a breathtaking sight on one of the islands.
"They [students] were out playing in the water, playing in the waves, and it was the most beautiful sunset I've ever seen," said Criner.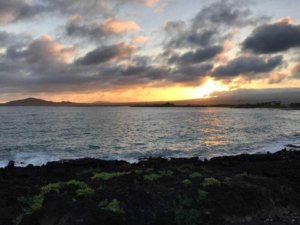 In addition, Strawmatt loved seeing all of the unique animals on the trip such as "sea lions, blue footed boobies, tortoises, penguins, pelicans, crabs, sharks, and lots of colorful fish."
Criner agreed, and said there were sea lions everywhere.
"There's little benches like you would see at a bus stop, and there's sea lions lying on the benches. Just lying there. And in one of the last places we snorkel in, they are all over the place; I mean, there's dozens of them," said Criner.
Strawmatt also enjoyed all of the fun activities that they got to do on the trip.
"We did so many cool activities like snorkeling, we hiked a volcano, we took a lot of boat rides and bus rides and we even got to walk along the equator in Ecuador!"
The Galapagos isn't the only place that you'll be able to go to. Ecuador is one of the first destinations, and you'll be able to experience all that it has to offer. Criner claims that they "actually got to walk around right when the president was giving a speech!"
If this sounds like too many activities and not enough time to rest, fear not. It's not a proper vacation without relaxation, and this trip is no exception.
There were hot springs on the islands that were naturally heated and made for perfect hot tubs.
"These hot springs, the hottest one was 106 degrees, I think. So I tried putting my feet in, and that one was a little too hot. Some of them were warmer than others; none of them were cold," said Criner.
If that isn't enough, he said that there's also both a restaurant and spa there.
"You can actually sign up, and a bunch of kids did; I think like 10 or 12 kids did, and they actually do a massage. Massage, hot rocks, and mud bath," Criner said.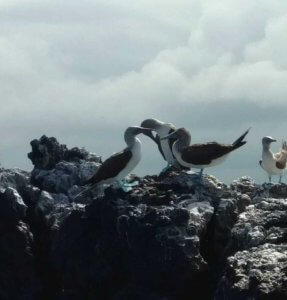 In order to be able to get to see and do all that Ecuador and the Galapagos Islands have to offer, Mr. Criner says "the cost of attending is about $3,930".
While this sounds like a lot, he said that it is well worth the price.
"It covers eight plane flights, hotels, meals, transportation in and around the islands, and for the most part, all the guides that we have–we will have experienced guides with us at every moment, as well as 24/7 point of contact. The kids also contributed a small amount of tips, which is another thing that the locals relied on."
He continued to say, "if you want, there's a global protection insurance that you can get. So if the trip gets cancelled, or for some reason it has to be cut short, you don't lose any money. And if you lose luggage or something like that, you're covered," said Criner.
If expenses are still a huge constraint, "you can make several payments, so you don't have to make the big payment at once," Criner said. "And if you sign up earlier, it spaces the payments out."
In terms of how long until sign-ups close, the last person signed up a month before the trip ended last year. However, Mr. Criner explained that that's cutting it close, and encourages people to sign up as early as they can.
"There's lots of meetings that we're going to have next year in advance of the trip, where we'll talk about food, and different things that they need to know before heading to the island; shots and any special medications won't be necessary," said Criner.
It doesn't stop there, though.
"I also have meetings with the parents to get what they need to know, what they can expect, and information and feedback from them about who has allergies, medical conditions, anything like that," Criner said.
Holmes knows that the trip will all be worth it in the end.  
"Considering how much travel there is within the islands and stuff, if you were to go with a family, you wouldn't be able to do half the stuff that we get to do. Also, it's different to go on a trip with your friends than with your family," Holmes said.
Sean Strawmatt describes the long-lasting impact that the trip has had on him, and is grateful that he got to go.
"From this trip I learned that we take a lot for granted and we need to be thankful for what we have. When I saw how some of the people lived, it made me sad and I came back a very different person." If you're interested in going on this extraordinary trip and would like to know more, go to the tour website at eftours.com and type in the tour number 2098539BR or contact Brian Criner at [email protected]